2014 Crane & Rigging Conference Canada
The 4th Annual CRC Canada Returns to Edmonton October 20-21
The Marriott at River Cree Resort in Edmonton, Alberta will once again host the Crane & Rigging Conference (CRC) Canada in 2014.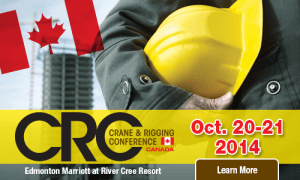 The event returns "home" following a widely successful 2013 Conference at the same location. Mark Bridger of Maximum Capacity Media (event organizer) commented on the event venue by saying, "In the longer term we still see the conference expanding into other regions of Canada, but we have a footprint in Edmonton and we want to finish what we started in 2011. The conference has facilitated so much positive change, but there is a long way to go."
CRC Canada 2014 will be supported by Industrial Training International (ITI) Canada ULC as the official event partner, Liebherr-Canada Ltd. as an associate sponsor, and Crane & Hoist Canada as the official media sponsor. It has also been confirmed that the Canadian Hoisting & Rigging Safety Council (CHRSC) will participate at the conference as a supporting organization.
Headline speakers include:
- Mike Parnell, President/CEO, ITI Canada UCL
- Knut Buschmann, President, Unirope Ltd.
The 2014 edition of CRC Canada is an ideal event for crane and rigging supervisors, facility managers, and safety professionals. Key topic to be discussed include:
- Overhead Cranes
- Critical Lifting
- Rigging
- Standards
- Competency and Training
3 Ways to Register
Registration for CRC Canada 2104 is $695 USD and includes admission to the conference, the exhibition area, and breakfast and lunch both days. Registration can be processed by:
Calling 602-445-3932 to register by phone
Downloading the registration form, complete and fax to 515-574-2361 or email to fmotz@maxcapmedia.com
Registering online at http://www.craneandriggingconference.com/crc-canada/registration/
Don't forget to book your room and the Edmonton Marriott by calling 800-960-4913. Mention the Crane & Rigging Conference to receive the discounted group rate.