VR Mobile Crane Simulator Announced from ITI
Woodland, Washington | September 9, 2016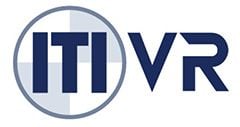 Industrial Training International (iti.com), a world leader in training and technical services regarding cranes, rigging, lift planning and rigging engineering has announced the development of a virtual reality (VR) mobile crane simulator product which it plans to formally unveil at CONEXPO (www.conexpoconagg.com) in March 2017.
The VR Mobile Crane Simulator product development began in August of 2016 following an ITI Customer Advisory Meeting held at Mammoet USA headquarters in Rosharon, Texas that hosted 30 participants focused on discussing a few key initiatives that the company proposed for consideration including VR. This event was hosted by Sheldon Redpath, Global Head of SHE-Q for Mammoet (pictured to the right using an Aerial Work Platform VR Simulator), in an effort to advance the crane and rigging industry in a few key ways utilizing recent technological advancements.
Prior to ITI's customer meeting, it had developed strong ties with two organizations as it began investigating the VR space, "We have been interested in simulation-based training solutions for several years and had nearly purchased our own simulators to distribute to customers and use in training. We principally decided against these investments as we didn't believe existing simulators would deliver enough value to our customers at the costs required mainly due to high price points and the inability to process enough trainees in a given year because of general immobility. A survey we conducted earlier this year asked simulator owners their opinions about their experience and they reflected negatively on a few aspects we hope to remedy with our VR simulator development," ITI President Zack Parnell reflects.
The main customer complaints that ITI hopes to remedy with its approach to simulation include:
Price Point - The high-price of simulators were a driving factor in why most have not purchased a simulator in the past according to ITI's research. High price points, though typically overcome by quality or high-utilization, have remained in the crane simulator business due to a limited supply of crane simulator manufacturers and the high-cost hardware sales approach that requires the customer to pay a front-loaded price like buying a car with cash. ITI has mimicked its e-learning distribution approach in which customers pay for actual course or simulation use, a subscription approach, identical to most successful software companies. The hardware is distributed very near actual costs of the VR headset and controls. This approach benefits the customer and ITI in a growing ecosystem by allowing ITI to continue to develop additional courses and course updates at no additional cost to the customer.
Minimal Use - In ITI's research, existing owners of simulators tended to agree that they were unable to achieve sufficient utilization of their simulators. ITI has also found this to be true in its qualitative research and associates the problem to the high cost of existing simulator products which make it difficult for employers to purchase multiple units and provide adequate access to their workforce, as well as very poor user experience of smaller, mobile units that utilize a small screen-display.
Overall Quality & Customer Satisfaction Score - Respondents in ITI's research who own simulators produced a Net Promoter Score of -16%, a metric that benchmarks overall quality and customer satisfaction on a scale of -100% to +100% by asking "How likely would you recommend this product to others?". ITI's other core businesses have much higher NPS scores, for instance, its Training Centers have experienced Student NPS above 70% over a two-year period. Additional quality and customer satisfaction issues, outside of those mentioned above, have included a generally poor user experience visible in the following respondent comments:

Crane simulators are so unrealistic - my field of vision is so limited that I cannot see the boom tip.
Our simulator is nothing like a real crane cab. It is a toy.
It gets our trainees only 5% of the training they need and we can't get everyone needed to the office it sits in so we've been pretty frustrated with the ROI.
In addition to its customers, ITI had learned a great deal from experts in the VR industry prior to deciding on the large development investment. Serious Labs, Inc. (www.seriouslabs.com, SLI) has been selected as ITI's development partner for a planned library of crane and rigging-related simulations that has commenced in August of 2016 with the mobile crane simulator. SLI, with offices in Edmonton and Calgary, has deep expertise in the serious game genre and virtual reality simulation.
"As VR was becoming commercially viable earlier this year with Oculus Rift and others headset manufacturers, we began looking for experts on the cutting-edge of that space as we believe the user experience and low distribution cost of VR makes it a winner for our customers. We could not have found a better partner than Serious Labs," commented Mr. Parnell.
Serious Labs, Inc. develops advanced simulator and game-based training systems for high-stake jobs in the global construction, mining, and oil and gas industries. ITI and SLI aim to overhaul the mobile crane simulator business with three main objectives:
Provide an incomparable, totally immersive user experience.
Remove barriers to entry with a subscription model and low capital costs.
Open up simulator training to all applicable team members by making access and utilization simpler than ever before.
These deliverables will be accomplished through the following features:
Growing Course Library - In addition to the initial simulations available in the library, additional planned simulations include overhead cranes, tower cranes, rigging, and assembly/disassembly of cranes.
Equipment - The ITI Mobile Crane Simulator leverages the technology of VR to allow a fully immersive experience that lays two inches away from the user's eyes.
Desktop & Motion-Base Versions - Two hardware models are available a fully mobile desktop version and an immersive, though still mobile, Motion-Base Simulator.
Learning Management & LMS Integration - Integrate ITI VR training with your current learning management system enabling employee training paths, and could be used for candidate screening, operator qualification, and record keeping.
ITI VR is currently deep into the "development" phase of the project with operating prototypes currently available. ITI will provide a "first look" at its VR Simulator at the upcoming SC&RA Crane & Rigging Workshop Product Fair, Thursday, September 22 in National Harbor, Maryland. For more information and to register visit the event website.
ITI is accepting reservations for both hardware models at this time. Both the Desktop and Motion-Base hardware packages can be reserved for $1,000. A Beta-Version Reservation is also available in which customers can immediately receive their computer system and Oculus Rift VR headset to participate in the development process by experiencing the simulations in development.
The official product launch will take place in March 2017 at the ITI Exhibit at CONEXPO-CON/AGG (http://conexpoconagg.com/) in Las Vegas.
For more information, visit www.iti.com/vr or contact Caleb Steinborn, E-Learning Specialist at ITI, at caleb@iti.com.