Desktop Station | Motion Base Operator Chair
ITI utilizes the latest cutting-edge VR technology to bring you the safest, most realistic crane training solutions yet: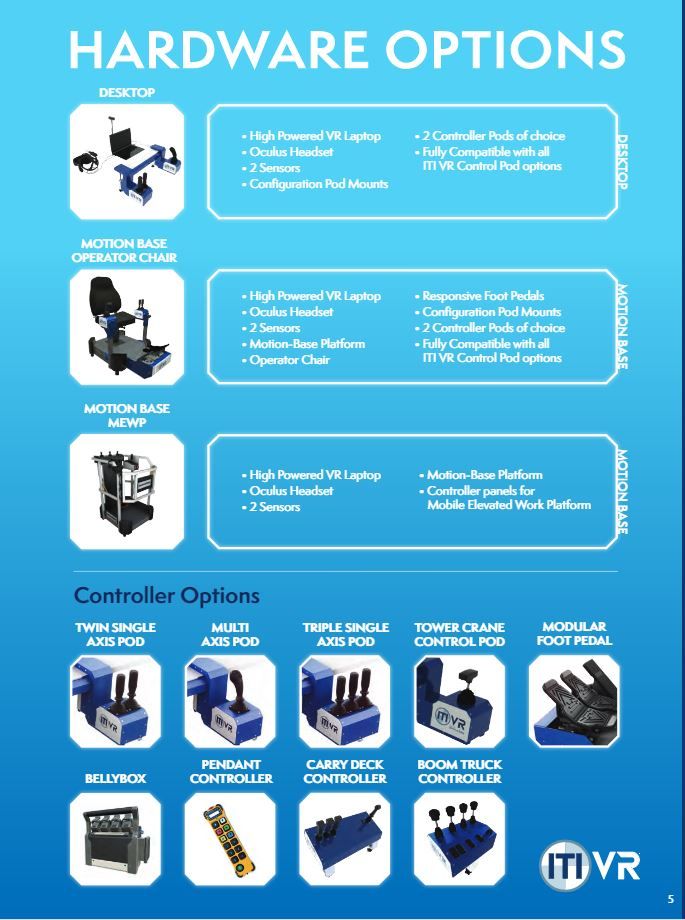 Full VR Experience: Visualize the perfect lift with a 360 degree view and full depth perception using the Oculus Rift™
Integrated Audio & Haptic Feedback: Don't just see it, Hear it and Feel it! As a team of trainers, we know how important it is for drivers to be able to operate by sound and touch. We work with experts in the field to integrate realistic sound and tactile effects into our simulation, including:

Throttle - Throttle up and down and hear the engine respond
Hydraulics - The boom hisses as it is raised and lowered
Drum Rotation Indicator - The hoist joystick clicks to indicate the lifting and lowering of the load

Realistic Controls: Each of our cranes is modeled after a real-life counterpart, like the Tadano GR1000XL Rough Terrain Crane, Broderson IC-80 Carry Deck, or Terex 21806 Boom Truck
In addition, users can choose between two simulation hardware models, each with their own benefits:
Desktop Station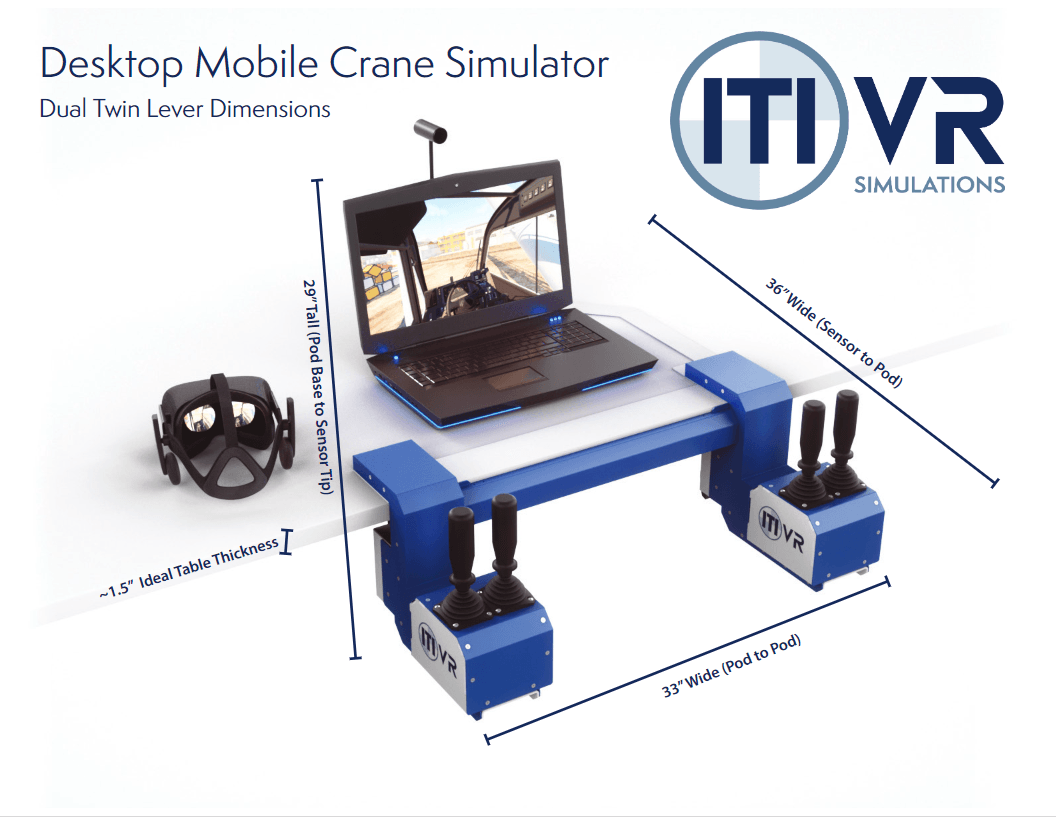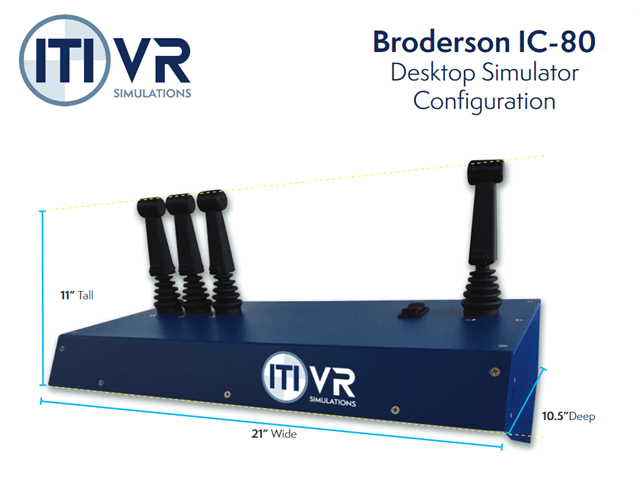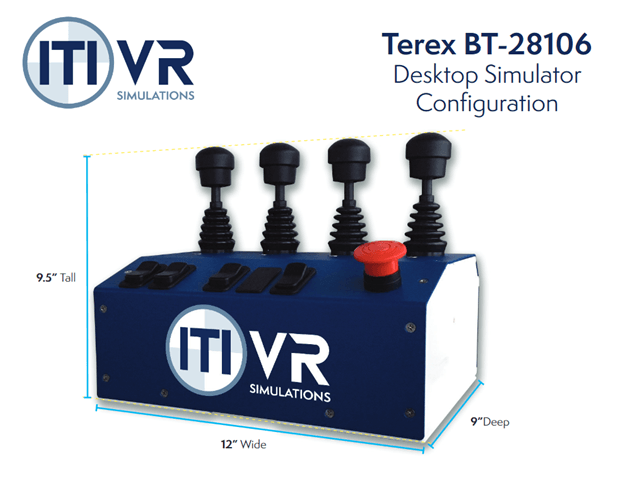 All of our desktop hardware attaches to nearly any desk (1"-2.5" thickness, 36" depth recommended): Our clamps are designed to work with nearly any flat desk or table, and tighten to secure the hardware from any movement while operating. At only 33" wide, the desktop units fit perfectly on any classroom table!
Easy assembly: Our desktop hardware is designed to be easy for one person to set up and pack away when needed.
Highly portable: The equipment comes packed in up to two custom-built and foam cut hard-shell cases that fit in your truck or SUV, and can even be checked on most flights, perfect for safe and secure travel. Take safe, realistic training wherever you need it!
Motion-Base Station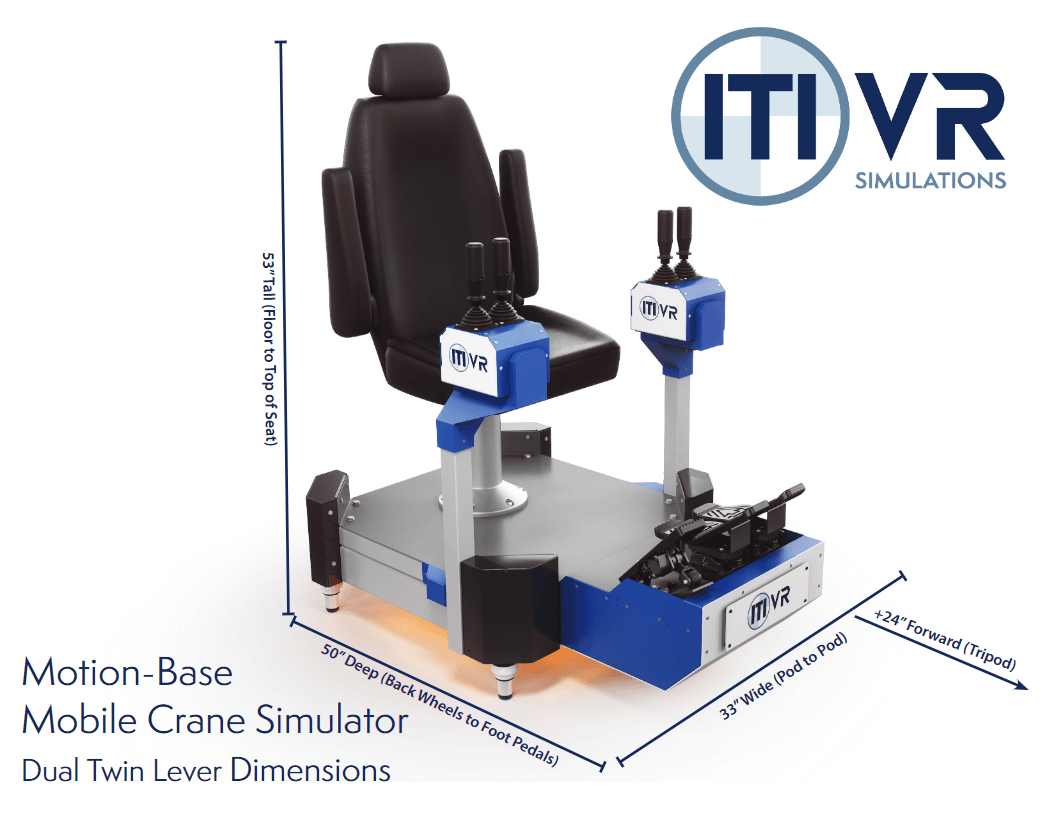 Life-Like motion: Immerse yourself like never before! Each motion base is equipped with four 3" actuators that simulate the swing, jostle, and vibration of a real crane.
Additional hardwired controls: Use the attached pedals to throttle up and down, and engage or release the swing brake.
Small Footprint: At 33"W x 50"D x 53"H, the Motion Base fits comfortably even in a small room or office, and can be packed away in the included quick-crate for shipment or storage. All the power of those other motion bases with less than half of the size and bulk!