Person(s) of the Week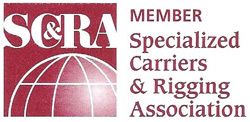 SC&RA Rigging Job of the Year Winners
The Rigging Job of the Year competition salutes projects that demonstrate how SC&RA members successfully meet professional challenges encountered in rigging. The focus of each of the winners is on ingenuity, hard work, and obviously safety. This years' four winners include:
- Over $2 million: Mammoet, Alaska Way Viaduct Project (Bertha, the world's largest tunnel-boring machine).
- $750,000 to $2 million: Barnhart, 400,000 lbs package into an elevated wall opening.
- $150,000 to $750,000: Able Rigging Contractors, Inc., dismantled and lowered a Potain Mr415 electric tower crane from the roof of the tallest residential building in the Western Hemisphere.
- Under $150,000 Barnhart, removed a motor gear box and compressor for maintenance in a single shift.