FOR IMMEDIATE RELEASE
Contact: Jonah Hobson, Marketing Manager
Telephone: 1-800-727-6355
Email: jonah@iti.com
Crane Rodeo, Training Catalog Release, Crane Accident Webinar Highlight October at ITI
October proved to be a busy month at Industrial Training International (iti.com). ITI Trainers represented the company on three continents during the month (North America, South America, and Africa), and a number of exciting events came out of the Woodland, Washington Headquarters.
ITI Hosts Regional Crane Operator Rodeo
Eight crane operators from the Pacific Northwest competed on October 5 at ITI's Woodland Training Center for two berths in the National Crane Operator Rodeo Finals. The regional qualifying event was one of nine rodeos leading up to the National Finals that will take place in March of 2014 at the CONEXPO-CON/AGG Trade Show in Las Vegas.
The eight contestants competed in three events that were judged and scored by certified CIC examiners, ITI's Jay Dyson and Alex Faris.
The first event, Place Ball in Drum, called for the contestants to place the ball of a 35-ton-capacity RT Grove 635C into two open drums as quickly as possible.
In the second event, Slalom, the crane operators had to direct a load (a weighted 55 gallon metal drum) through a slalom course of staggered drums as quickly as possible, while keeping a 3-foot chain fastened to the bottom of the drum in contact with the ground at all times.
The final event, Stand & Move Pipe, required contestants to lift a 10-foot PVC pipe, filled with concrete to a standing

position, keep the pipe within a corridor, and finally lay it down again.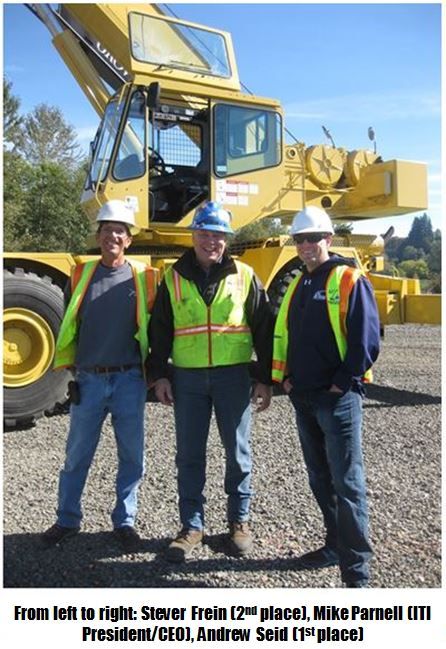 While speed was king in these events, accuracy and control played a vital role as well, as operators were penalized for violations in each event, and points were added to their overall score. The operator with the lowest total score after the three events walk away as the champion.
Andrew Seid of Seid Crane in Kuna, Idaho ended the day on top of the leader board to punch his ticket to Las Vegas. Finishing in second place was hometown contestant Stever Frein, an instructor at West Coast Training in Woodland, Washington. In addition to the crane rodeo, ITI hosted an open house complete with tours of the training center, module demonstrations and refreshments. Donations were collected for Doernbecher Children's Hospital.
2014 Training Catalog Released
ITI's 2014 Training Catalog was published in October. To meet demand, the 2014 Training Center schedule features more course dates than any other calendar year in the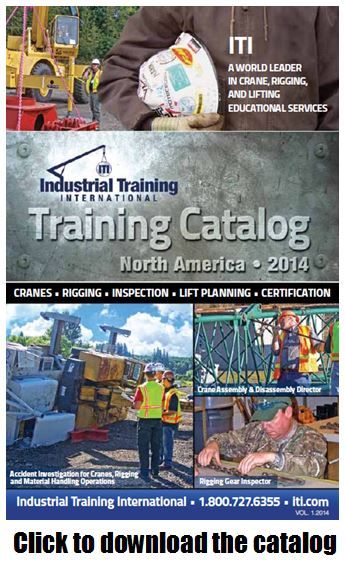 company's history. A full slate of courses will be offered at ITI's U.S. Training Centers in Woodland, Washington and Memphis, Tennessee. In addition, the 2014 Catalog includes a full course schedule at ITI's newest Training Centre in Edmonton, Alberta.
The ITI Bookstore, a world leader in crane and rigging resources, is also featured in the 2014 Catalog. Among new items to the ITI Bookstore for 2014 is Rigging Engineering Basics by Keith Anderson, Chief Rigging Engineer at Bechtel. A comprehensive "bible" for rigging engineers, lift planners, advanced riggers and those involved in rigging and lift planning activities, this title is distributed exclusively by the ITI Bookstore.
The 2014 Training Catalog also features information on the Showcase Webinar Series, ITI Newsroom, LEEA Accreditation, ITI Field Services and the ITI Workshops Division.
180+ Register for Crane Accident Investigation Webinar
The October 2013 edition of the Showcase Webinar Series concentrated on the investigation of a crane accident. Mike Parnell, ITI President/CEO, hosted the online learning event that was attended by health and safety professionals, construction foremen, insurance representatives, lifting supervisors, project managers, inspectors, heavy lift superintendents and others.
Those who attended the webinar were given access to eye witness testimonies, machine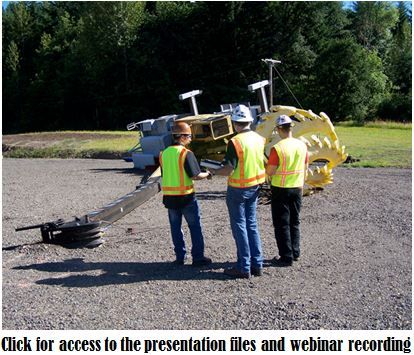 and rigging data, lift plan documentation, images and other site specifications of a mobile crane accident. With these materials in hand, they were then led through the process of using all available resources to determine causation, violations and corrective actions to the mobile crane accident in question.
For more updates on news and events from ITI be sure to visit the ITI Newsroom at iti.com/news.