Link-Belt's long history of quality and power is captured in the 218 HSL. This machine provides an optimal starting point for lattice boom crane operator training in the ITI VR Simulator. The 110-ton crawler model capable of 154 feet of main boom length is a solid model for operator screening, training and assessment. The Link-Belt team and ITIVR made this model available for the community in the Spring of 2017 with over 10 hours of scenarios and various joystick configurations.
Convenient, Cost-Effective
The desktop VR simulator can be attached to almost any desk surface. Units are completely portable and can be checked as standard luggage on any passenger flight.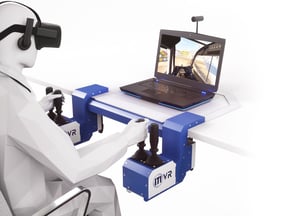 Motion-Base Hardware
Fully Immersive, Full-Body Control
The motion base VR simulator provides a true crane cab experience that includes responsive foot pedals, operator chair, robust hand controls, and full-motion platform.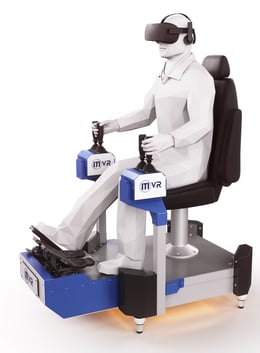 Training Plans
Mobile Crane Operator Apprenticeship | 300+ Learning Scenarios
Go from greenhorn operator to grizzled veteran in this full-scale training program. Exercises and learning outcomes include:
Crane setup, outrigger deployment, leveling of the crane, boom setup, and LMI programming
Pre-lift assessments, crane load charts, review of basic rigging methods, pick-up radius, travel path, and set-down radius
Load handling, NCCCO test weights, AC units, Motors, Generators, Transformers
Crane hand signals and voice commands • Safe operating procedures in poor weather, around high voltage lines and in hazardous environments
Crane shut down and securement
NCCCO Practical Exam Prep | 40 Learning Scenarios
Prepare for the NCCCO National Mobile Crane Operator Certification Exams in this training plan. The administrator and the user have the option to conduct this training course in a pre-test practice mode, or jump right into the practical exam. Objectives include:
Conduct a pre-operational inspection of a mobile crane

Safely operate a mobile crane using multiple functions within a time limit

Interpret crane hand signals to complete various operator responsible functions

Safely shut down and secure a mobile crane
Operator Screening & Qualification | 50 Learning Scenarios
The new guy on the job listed "crane operator" as one of his skills, but he doesn't have a certification or any other proof to back it up. Don't just throw him the keys to a half-million-dollar machine without running him through this assessment program first!
Three unique operator qualification assessments on a Tadano RT GR-1000XL
Three unique operator qualification assessments on a Link-Belt 218 HSL
Four operator screening modes based on fifty load handling scenarios
Challenge Series | 30 Learning Scenarios
Compare employees or set company standards in the Challenge Series Training Plan. Comprehensive challenges push operator skills to the limit in every facet of mobile crane operation, including:
Load control
Corridor Navigation
Signaling
Load Chart Checks
Pre-Operation Inspections
Setup & shut-down procedure
Hazard Identification & Risk Control | 30 Learning Scenarios
A competent operator needs to stay cool under pressure and rely on their training and experience when the unexpected happens. This training plan will expose the operator to:
Weather related complications
Mechanical failures
Hardware failures
Site complications
Communication complications
And more!
Link-Belt 218 HSL Specs
Base Rating - 110 US-ton (@11' Tube Boom)
Boom Lengths - 40' to 230' (10' increments)
Fixed Jib Lengths - 30' to 75' (15' increments)
Fixed Jib Offsets - 5, 15, and 25 degrees
Maximum Tip Height (Fixed Jib) - Tube = 279'
Engine Make & Model - Cummins QSB 6.7 Tier 4 Final
Horrsepower - 270 hp @ 2000 rpm
Maximum Hoist Pull/Speed - 44,565 lbs @ 356 ft per minute
Counterweight Option 5 - 62,820lbs Upper + 22,200lbs Lower
Working Weight - 192,735lbs
Main Transport Load - 99,960