Rigging Set to Hit the Big Screen
Rigging applications influence the public's day-to-day lives more often than we think, and this week, rigging is going to Hollywood. The Walk, starring Joseph Gordon Levitt as French high-wire artist Philippe Petit, is set to premiere on September 30, 2015, with a full release on October 9, 2015. The film chronicles Petit's 1974 attempt to walk on a wire across the gap between the Twin Towers of the World Trade Center. The film is directed by Robert Zemeckis (Cast Away, Forrest Gump, Back to the Future), and features Ben Kingsley and Charlotte Le Bon.
During this history-making walk, and many other throughout Petit's celebrated career, knots have always been an indispensable component. After years of hands-on research, Philippe presented Why Knot?, a guide to tying essential knots.
Before trekking to the local theater, paying for a babysitter, parking, tickets, popcorn, and a soda, visit the ITI Bookstore (store.iti.com) for Philippe Petit's Book Why Knot?: How to Tie More than Sixty Ingenious, Useful, Beautiful, Lifesaving, and Secure Knots! The hardcover contains Petit's own practical sketches that illustrate original methods and clear tying instructions. Photos of these knots in use during Petit's spectacular high-wire walks are also included throughout the text. Further contents include: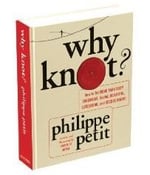 Quirky Knot Trivia
Personal Anecdotes
Helpful Tips
Magic Tricks
Special Tying Challenges
Why Knot?: How to Tie More Than Sixty Ingenious, Useful, Beautiful, Lifesaving, and Secure Knots! is available from the ITI Bookstore for $19.95.