LEEA ACCREDITATION
Lifting Equipment Engineers Association Accredited User Training Company
LEEA ACCREDITED
In 2012, ITI underwent a string of audits and evaluations to become an Accredited User Training Company according to the Lifting Equipment Engineers Association.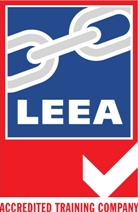 At the time, ITI was the first professional training company in North America to be Accredited by LEEA.
The process entailed:
1. A corporate audit of ITI as an organization
2. A complete audit of all course curriculum and examination processes of ITI
3. Individual presentation-skill audits of all ITI Instructors
4. Facility-audit to determine compliance of ITI Training Centers.
ABOUT LEEA
The Lifting Equipment Engineers Association (LEEA) is established as the leading representative body for all those involved in the lifting industry worldwide. The Association has played a key role in this specialised field for over half a century, from training and standards setting to health and safety, the provision of technical and legal advice, and the development of examination and licensing systems.
The LEEA was founded in 1944 as the Chain Testers' Association of Great Britain. The name was changed to its present one in 1988 to more accurately reflect the activities of our worldwide Membership. On 1st January 2000 LEEA became a company limited by guarantee and is owned and financed by Members.
LEEA Accredited Courses
Master Rigger
Intermediate Rigging
Basic Rigging & Inspection
Rigging Gear Inspector I/II
Rigging Gear Inspector III
LEEA Accredited Facilities
Woodland, WA Training Center
Houston, TX Training Center
Edmonton, AB Training Centre
LEEA Accredited Instructors
Jim Cox
Jay Dyson
Mike Goett
Jasen Doyle
Mark Chudy
Justin Irwin
Efren Solis
Additional LEEA Accredited Curriculum
All curriculum within the Fundamentals of Rigging Engineering Program is LEEA Accredited including the following course titles:
Principles of Rigging Engineering
Crane & Derrick Engineering, Installation & Planning
Rigging & Load Handling Equipment Engineering & Applications
Alternative Load Handling Equipment Engineering & Applications
Lift Planning Procedure, Considerations & Execution
Specialized Transport Planning & Engineering Considerations
Standards & Regulations for Load Handling Equipment