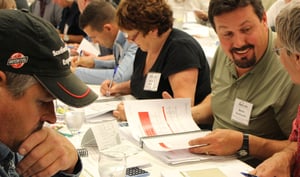 Procedure Manual Development
An ITI Field Service
Procedure Manual Development Services
Load handling and equipment manuals assist the client by developing and incorporating standard operating procedures for their worksite. The final document package can be used on the client's intra-web, and in printed form to provide clear guidance for employees involved in standard and critical lift activities.
Standardize SOPs
Load Handling Manuals Developed for Multiple Industries
Address: Equipment, Personnel, and Activities
If you or your organization is in need of a "single source of truth" when it comes to material handling and hoisting, complete the form on this page and we will contact you as soon as possible.
Additional ITI Field Services
TOUCH
Accident Investigation
Crane, rigging, and wire rope failure analysis is provided for clients who experience accidents
More about this Service
TOUCH
Performance Evaluations
Crane and rigging performance evaluations may focus on crane and rigging usage, inspection, and worker skill levels to help identify recommended improvements.
More about this Service
TOUCH
Expert Witness
Services are provided for clients with claims concerning crane and rigging practices and suitability of equipment.
More about this Service