Company Honored for its VR Crane Training Simulator
WOODLAND, WA, October 12, 2017— Industrial Training International (ITI) today announced that its virtual reality crane training simulator received the award for Best Use of VR in Education and Training at the 2017 VR Awards in London, England.
Considered the premier awards show for the VR industry, the black-tie affair on Monday, October 9th, was attended by senior executives from Google, Facebook, AMD and others, many of whom were recognized for achievements in their respective categories.
Accepting the award on ITI's behalf was Pinky Gonzales, Director of VR and Online Learning. "The credit for this and its viability in the market goes to the people that train and educate and care about safety," said Gonzales during the acceptance speech. Gonzales also recognized ITI's development partner, Serious Labs of Edmonton, Alberta, and thanked everyone involved in the development of hardware and software solutions that make educational programming possible.
In just six months since its launch at the CONEXPO trade show in March in Las Vegas, ITI VR has grown its community of subscribers substantially, represented by organizations such as Bechtel, Mammoet, and the International Union of Operating Engineers. ITI's simulation-as-a-service approach allows all subscribers to benefit from perpetual additions of equipment types and training scenarios, as informed by the community ITI VR contributors and trainees.
"This award is well deserved recognition to the dozens of people behind our VR simulations at Serious Labs and ITI that are revolutionizing crane and equipment operator training," commented ITI CEO, Zack Parnell.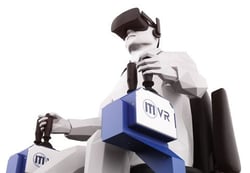 About Industrial Training International:
Industrial Training International is a global leader in training and technical services for users of load handling equipment, and the maker of the ITI VR Crane Simulator, the most widely-used VR training and assessment platform in the industry. In business since 1986, ITI provides hands-on instruction in over 75 countries and online at ITI.com. www.iti.com
About the VR Awards:
The VR Awards celebrates outstanding achievement in the Virtual Reality Industry. Attendees include some of the biggest names in VR and offers a night of entertainment and celebration, looking back on the previous year of achievement. https://awards.vrbound.com/.