We are delighted to share that the American Society for Mechanical Engineering (ASME) has recognized ITI co-founder Mike Parnell with the 2021 Dedicated Service Award. This award honors dedicated voluntary service to the Society marked by outstanding performance, demonstrated effective leadership, prolonged, and committed service, devotion, enthusiasm and faithfulness. The award is reserved for individuals who have served the Society for at least ten years. Mike was nominated for this honor by Mark Webster of Webster Engineering, LLC.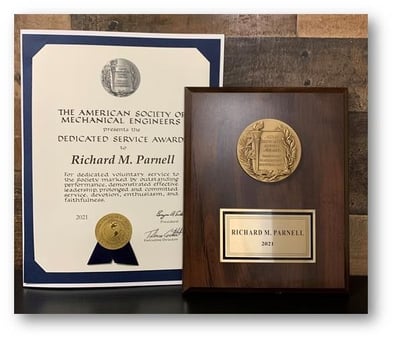 From ASME:
For Outstanding Leadership and tireless dedication to ASME since 1996. Your impact has been felt deeply and profoundly. Your dedication to B30.9 as Chair and P30 as Founding Chair has left an indelible mark on ASME, the industry and the world.
Note: The AMSE B30.9 standard covers provisions that apply to the fabrication, attachment, use, inspection, testing, and maintenance of slings used for load handling purposes. The ASME P30 standard establishes planning considerations and practices that apply to Load Handling Activities.
ASME's standards are developed by technical committees, several of which are currently occupied by our very own ITI instructors. Learn more about our skilled group of subject matter experts and how we can contribute to your organizations crane, rigging and lift planning education and development at www.iti.com.
About ITI
Industrial Training International (ITI) is a global leader in the design and delivery of learning solutions for organizations conducting crane, rigging, and load handling activities. Founded in 1986, the company originally specialized in instructor-led training, field services, and consulting. ITI has since grown to produce live online and on-demand courses through the ITI Learning Hub and has won numerous awards with groundbreaking virtual reality crane and equipment simulations. ITI serves thousands of customers spanning dozens of industry verticals via offices and training centers located in the USA, Canada, Brazil, and the United Kingdom.