We often learn from our surroundings. By taking a page from other folk's playbooks, we can start to appreciate new solutions to old problems.
Standard rigging generally calls for two to four slings rigged from the crane hook to the load. Either the slings connect directly to a pad eye or manufactured connector like a swivel hoist ring, or we might use the slings in choker or basket hitches. Especially when rigging with 4 slings, the angle of the slings is typically less than 90 degrees from the horizontal, which means they bear against a portion of the load. (You have heard from me numerous times in various articles about the absolute need to install sling protection when the potential exists for sling damage due to cutting or sliding friction, or load damage due to marring and scrubbing.)
We can borrow a page from the longshore industry to help reduce the sling-to-load contact that might lead to damage or a failure. The use of a spreader frame can help orient the slings to a near 90deg. position when using a spreader frame. The sling tension is not increased since the vertical orientation takes away the "angle load factor". It also minimizes the potential contact points when rigging with choker or basket hitches. The pre-planned contact between sling and load is restricted to the bearing surface, not spanning across the sides or upper edges of the load.
A spreader frame is different than a spreader bar. The frame typically offer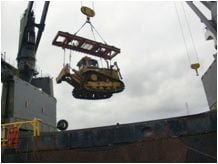 s a 4-leg lift option, generally at 90deg. from horizontal. A spreader bar requires that the slings work at angles less than 90deg. thereby inviting upper load contact with the slings and added tension due to the <90deg. orientation.
Many spreader frames are available off-the-shelf, or can be built by qualified manufacturers who have calculations and drawings in-hand, from previous customer orders.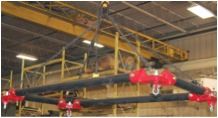 We can lower the risk of damaging the load and the rigging by improving the sling angle.
Happy trails to my crane and rigging friends,
Mike