ITI Wins Coveted VR Award
2017 has proven to be a watershed year for the adoption of virtual reality simulation technologies in the industrial training space. With the launch of their Crane Training VR Simulator at CONEXPO in March, ITI sent a signal to the industry that the era of expensive, screen-based simulators was ending, and the dawn of mainstream virtual reality had arrived, leveraged by the technologies of tech giants Oculus/Facebook, HTC, Microsoft, Google, Apple and Unity.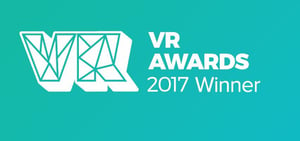 Proving that the prediction was more than hype, ITI has gone on to sign groundbreaking training and development deals with industry leaders Bechtel, Mammoet, Nucor Steel, General Electric, the International Union of Operating Engineers (IUOE) and numerous others. The company has also partnered with leading crane manufacturers Broderson, Liebherr, Link-Belt, Mazzella, Tadano, Terex, and Whiting to produce a series of high precision virtual crane models with true-to-life physical response.
CEO Zack Parnell attributes the rapid adoption of VR training systems to a proliferation of high-end VR headsets hitting the market at affordable prices, and pent-up demand for a better alternative to the construction simulators previously available.
"An engaging student experience has been our focus for over 30 years," said Parnell. "It was immediately clear that VR would finally deliver an authentic training capability that we could feel confident about bringing to our customers."
Subscribers have also responded enthusiastically to ITI's "simulation-as-a-service" model, which allows users to receive new crane models and features on an on-going basis.
Recognition of ITI's Crane VR Simulators has been global, with distribution partnerships now in place in Mexico, Brazil, Germany, Poland, Australia and new Zealand. the company was also honored with a prestigious award for "Best use of VR in Training & Education" at the 2017 VR Awards in London.
Pinky Gonzales, ITI's Director of VR & Online Learning, represented the company at the ceremony earlier this month. "We are thrilled to hold up the banner for construction and industrial technology at this year's Awards," said Gonzales. "We credit our customers who believed in bringing this technology to crane users worldwide, and Serious Labs, our development partner on this project." Facebook, Google, and IKEA were also among the winners at the black-tie affair.
Parnell concluded, "Keeping pace with the demand as we continue to expand the library of equipment types and training scenarios will be the major challenge going into 2018. We could not have expected a greater reception than we have received in 2017, and look forward to continuing the momentum and growth of the ITI VR Community."
For more information about ITI Crane VR Simulators and ITI global training capabilities, visit www.iti.com/vr.