Wade Carson (left) and Jim Colvin (right) accept the award from Brad Boehler, President of Skyjack. John Inverdale, BBC's "face of rugby" and master of ceremonies for the night, looks on.
FOR IMMEDIATE RELEASE
Serious Labs Inc. Wins international Award for Innovative Technology
Virtual reality leveraged for innovative industrial training simulator
Edmonton, AB: On April 4th, the Mobile Elevated Work Platform simulator (known as Aerial Work Platform simulator in North America), developed by Edmonton's Serious Labs inc., received industry recognition at the International Powered Access Federation (IPAF) Summit in London, UK.
In front of a packed room of international power access industry leaders, Serious Labs' Mobile Elevated Work Platform (MEWP) simulator for operator training received the International Award for Powered Access prize in the category of Innovative Technology. The international access safety training landscape is about to change as the industry embraces emerging technologies, like virtual reality, to connect with and support a younger, "digital native" generation of workers.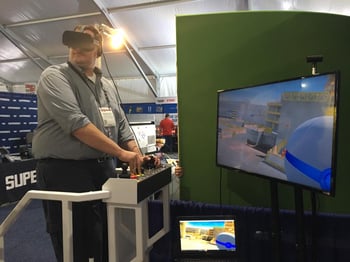 "It's a great day for Edmonton's growing technology industry, and a fantastic day for us at Serious Labs," said CEO, Jim Colvin. "This is a validation for our decision to go hard into virtual reality to deliver incredible training simulators for our industrial clients."
Serious Labs has been developing industry-leading training simulators for 12 years. In the past year, SLI has leveraged the power of virtual reality for unbridled learning experiences. Now, workers can perform and repeat hazardous tasks to perfect their skills without risk or consequence. With razor-sharp analysis opportunities and in-depth data sets, training programs can be fueled by more predictability and preventative controls than ever before.
About Serious Labs Inc.: Serious Labs (seriouslabs.com) is an advanced technology studio based in Edmonton, Alberta, Canada. Founded in 2005, Serious Labs is dedicated to designing the best virtual reality-based training simulators in the world. Serious Labs and Industrial Training International (iti.com) started a partnership in 2016, that will usher in a new generation of industrial simulator training combining the technology of virtual reality with the technical knowledge of more than 30 years in the industry.
About the VR AWP Simulator: The virtual reality aerial work platform training simulator for an articulated boomlift allows for brand new operator training, as well as existing operator recertification. It is designed to be used in conjunction with conventional classroom or online training, but before any hands on component with real world equipment. Click here to download a spec sheet with additional information.
For additional information, visit: www.iti.com/vr or call 800.727.6355.