FOR IMMEDIATE RELEASE
Contact: Jonah Hobson, Marketing Manager
Telephone: 1-800-727-6355
Email: jonah@iti.com
Training Center Courses & Webinars Help Put the International in ITI
Industrial Training International (iti.com), a world leader in crane, rigging and lifting educational services, has truly lived up to the company's name during the final quarter of 2013. Two divisions in particular, the Showcase Webinar Series (a free, monthly educational webinar presentation hosted by ITI President/CEO Mike Parnell) and open enrollment training courses at the company's Woodland, Washington Training Center, included a number of participants that added some extra international flavor.
Showcase Webinar Series
The November edition of the Showcase Webinar Series was titled, Terex Presents: Ground Condition & Preparation for Mobile Cranes and featured Klaus Meissner, Director of Product Integrity at Terex Cranes, as well as host, Mike Parnell of ITI. Mr. Meissner presented his portion of the webinar remotely from his office in Zweibrücken, Germany. Initial feedback on the webinar proved to be positive, as learning points included:
Angle of Repose
Shear Failure
Crawler Ground Pressure
Outrigger with Plates
In addition to an international guest presenter, webinar registrants represented 39 U.S. States, 8 Canadian Provinces, and 28 different countries. The worldwide participation clearly shows that the pursuit of crane and rigging knowledge is not limited by any borders.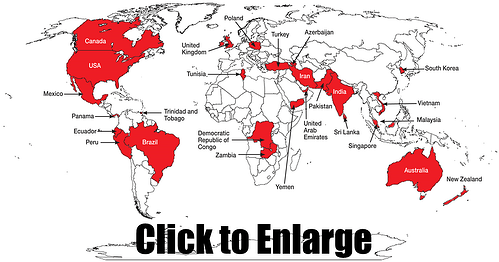 To access the webinar presentation recording, please click here. To learn more about the ITI Showcase Webinar Series visit http://iti.com/showcase.
Open Enrollment Courses
The internet undoubtedly contributes to the ease of sharing knowledge around the world. However, hands-on crane and rigging training is not easily communicated on the World Wide Web and while technical concepts are important, there is no substitute for live, face-to-face, practical training.
This point was not lost for student participants in a December Rigging Gear Inspection Course conducted at ITI's Woodland, Washington Training Center. The course included students from the United States, Canada, Brazil and Russia. Additionally, two students from South Africa were expected to attend, but had to reschedule their training due to other commitments.
ITI Senior Instructor Bob Schumacher led the course and leaned heavily on his vast international training experience to ensure that all in attendance received the world-class instruction that is the company standard.
According to Schumacher, "Having a mix of nationalities in the same class challenges the instructor to create an environment that makes the students feel comfortable and included. Having conducted 3rd party assessments and training globally, it allowed me to work more efficiently with these students from Russia and Brazil. Although the students were engineers and spoke English, I needed to create a balance for both groups when providing technical information, keep the class flowing and ensure our guests understood the nomenclature used. I also offered to answer questions they had and did this during breaks, lunch and after class. The feedback received from them confirmed we were successful and they offered that they appreciated recognizing and respecting their culture."
ITI operates businesses in the USA, Canada, and Brazil, with crane and rigging training and consulting services conducted worldwide. To learn more about ITI, visit www.iti.com or call 1-800-727-6355.