All Things ITI in One Handy PDF Document
As 2018 comes to a close (hard to believe isn't it?), many of us are in the midst of preparing for an even better 2019! To help ensure that all of your crane, rigging, and load handling training options are locked and loaded for the upcoming year, ITI proudly presents...our 2019 Training Catalog.
Available for free download in a convenient PDF format, the 2019 version of this indispensable reference document contains:
Course descriptions for all ITI instructor-led and online learning content
Snapshot profiles of the most impressive group of crane, rigging, and lift planning subject matter experts ever assembled
Introduction and background information on industry partners and associations
Vitals for nine world-class ITI Training Centers in North America
An in-depth look at the ITI VR suite of crane and equipment training simulators
Featured products from the ITI Bookstore
Another noteworthy addition is the inclusion of Quick Response (QR) codes throughout the document. These QR codes can be quickly "scanned" or "read" with a smart phone camera, and provide instant access to expanded content including:
Videos (course previews and more!)
Live course schedules
Opportunities to request a quote for client-site training
Free trial offers
And more!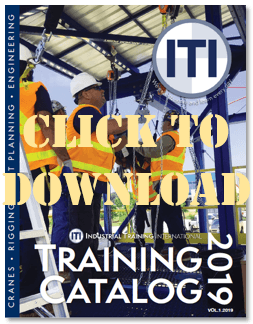 As we will be viewing the PDF version of the 2019 Catalog on a screen of some sort already, don't worry, all of the bonus QR code content is accessible with a good old fashion "click" as well. Try one for yourself...

Click Here to download your free copy of the 2019 ITI Training Catalog.