We are pleased to share that ITI Master Instructor, Jim Cox is this year's Best Trainer Winner! On November 5th, Jim was named the recipient of the Lifting Equipment Engineers Association (LEEA) Craig Morelli Award for Accredited Training Scheme - Best Trainer.
LEEA judges noted, "This person has consistently exceeded challenging objectives and demonstrated a quality approach through values and working practices."
Jim joined Industrial Training International (ITI) in 2008 as an Instructor and Consultant specializing in mobile and overhead crane operations, rigging applications, rigging gear inspection, lift planning and accident investigation, and socketing & sling fabrication.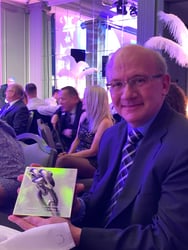 Prior to joining ITI, Jim worked for over 24 years for a regional industrial supplier that specialized in wire rope, rigging equipment and overhead cranes. During that time, he was instrumental in the business development of on site inspections, repair and fabrication of the EOT cranes. The explosive growth revealed the need for training to inspect, operate and maintain the cranes and rigging gear efficiently. Jim found great satisfaction and discovered a personal aptitude for contributing to the risk management and employee development efforts through the implementation of training programs.
Jim brings positivity and professionalism to every interaction. ITI would not be the same without him. We are honored to get to work alongside Jim, he is an integral part of our work family. Congratulations Jim!
About Industrial Training International (ITI)
Industrial Training International (ITI) is a global leader in the design and delivery of learning solutions for organizations conducting crane, rigging, and load handling activities. Founded in 1986, the company originally specialized in instructor-led training, field services, and consulting. ITI has since grown to also produce live online, and on-demand courses delivered via the ITI Learning Hub and has been recognized with numerous industry association awards for its groundbreaking virtual reality crane simulator solution. For more information about ITI, visit iti.com