Barnhart Crane & Rigging, a leading specialist in the lifting, heavy-rigging, and heavy hauling of major components used in American industry, is taking its learning and development strategy to new heights for the benefit of its 1,600 team members with the ITI Learning Hub.
Barnhart has invested heavily in workforce development, learning and safety for decades. The 52-year-old company hosts dozens of weeks of live instructor-led training courses every year at its Memphis Training Center for craft, field leaders, and engineers. Its customized video library contains hundreds of videos for internal training and reference. Company-wide safety training occurs at all 50+ branches two times per month, and the company's "Qual Card" methodology, which consists of verification of knowledge and skill, now covers over 150 skill sets.
Through its continuous improvement nature, Barnhart's leadership team identified some growth areas it intended to solve in 2021 relating to workforce development.
"We wanted to improve several aspects of our approach and delivery of employee training so we reached out to ITI for help," said Jeff Latture, SVP of Sales & Marketing. Latture initiated the discussion with ITI's President Zack Parnell. "We have worked with ITI formally since 2010, most notably as partners in our Memphis-based collocated training center, and in the development of its ASME-credentialed online Rigging Engineering program."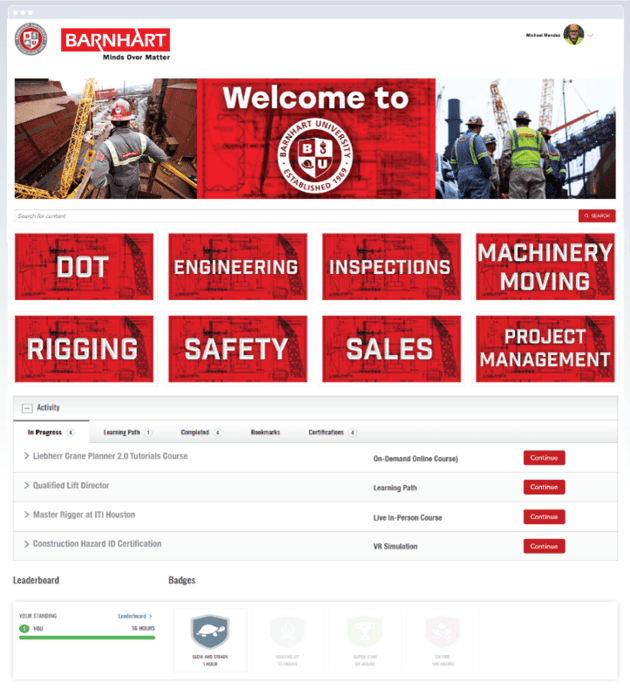 According to Gene Kaercher, SVP of Engineering & Technical Services, and who oversees training, "At the time we were actually supporting ITI in the development of its field leadership and equipment technician online courses. When we learned that they had a robust learning management system along with their course libraries, we decided to learn more."
ITI and Barnhart quickly learned some ways the ITI Learning Hub could bring value to Barnhart's operations including:
Save hundreds of hours/year, across 50+ branches, in the physical administration of its safety training process, while significantly reducing data entry errors.

Track and create improved workflows on expiration dates for qualification cards, certifications, and licenses.

Create, assign, and report on digital learning paths of the assignments an employee must complete including live or online courses, written exams, and field assessments.

Enable course registration to employees and managers for live training events hosted by the company or externally.

Deliver all online learning content in one place such as OSHA 10 from ClickSafety, ITI's Crane & Rigging Library, and their own material.

Conduct field evaluations for Barnhart Qual-Cards directly on the employee learning record, eliminating all physical administration of the paperwork.

Using the integrated API interface of the ITI Learning Hub, all training will be seamlessly documented in Barnhart's enterprise software.
Zack Parnell, ITI's President, shared, "As a workforce development company focused on hoisting and load handling activities, we serve a variety of industries. Though, we have a certain affinity for the crane rental and specialized transport industry because load handling is what they do for the world! They are the pros. We have had tremendous success partnering with companies like Barnhart in this industry because we are able to deliver world-class learning management technology along with all the learning and development content and forms of delivery the industry needs including instructor-led, online, curriculum, and virtual reality."
Barnhart will be launching the new "Barnhart University" over the course of 2021 to its nationwide network of branches.
About Barnhart
Barnhart was founded in 1969 in Memphis, Tennessee, as a small family-owned business. While still a family-run company Barnhart has grown to be one of the largest Heavy Lift and Heavy Transport organizations in the United States with more than 40 locations across the country and a nationwide reputation for solving problems. Barnhart provides world-class service through a local presence. Operated crane rental, rigging services, outage planning, specialized solutions for component replacement, industrial storage and national project cargo logistics all combine to ensure Barnhart's customers receive the lowest total project cost. Barnhart also boasts one of the largest engineering teams in the industry — including a full R&D department — driving innovation across all services.
To learn more about Barnhart Crane & Rigging, visit www.barnhartcrane.com.
About ITI
Industrial Training International (ITI) is a global leader in the design and delivery of learning solutions for organizations conducting crane, rigging, and load handling activities. Founded in 1986, the company originally specialized in instructor-led training, field services, and consulting. ITI has since grown to also produce live online, and on-demand courses delivered via the ITI Learning Hub and has been recognized with numerous industry association awards for its groundbreaking virtual reality crane and equipment simulations solution.
To learn more about ITI visit www.iti.com and to view the ITI Learning Hub, visit https://learn.iti.com.