Terex Cranes has signed an agreement with A1A Software, Florida to provide customers worldwide with a 3D lift planning application for its All Terrain, crawler, truck, boom, tower and Rough Terrain Cranes.

Effective immediately, this new agreement provides customers access to 3D lift planning simulation for their business, in addition to the existing Cranimation program.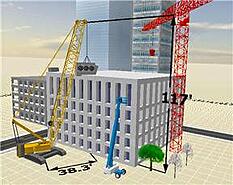 Terex says that the application is accessible from any computer and updated automatically with no additional CAD software. The new web-based application provides fast, user-friendly access to features including the construction of 3D jobsites and loads, the creation of detailed rigging designs, simulation of cooperative, multi-crane solutions, while monitoring crane capacity from any angle and much more.

"Available in over 162 countries, the 3D Lift Planning software provides our customers globally the service of a "virtual" test-drive of our cranes, to ensure they meet their specific application needs prior to purchase or rental," says Frank Bardonaro, vice president of Terex Cranes North America. "The service is free of charge for Terex customers and easy to use, with no need for special training."
A1A Software has more than 35 years of experience developing successful applications and websites for the construction industry.
This article was oroginally published by Vertkal.net - Terex Cranes signs 3D lift planning agreement.