Rigging Alternatives
The photo to the right was submitted to the ITI Training Solutions Team with the following concern: "We have a number of cranes in use that have hooks having simple spring loaded safety latches. The edge of the latch is not particularly sharp but it possibly could bite into a synthetic sling and cut the edge of it." The client went on to ask: "Are you aware of any instances where the safety latch on a crane hook has damaged synthetic slings that are being used?"
Tasked with the goal of providing the best feedback and suggestions for the client, the Training Solutions Team consulted with our Field Services Division to review the problem and come up with the best response. Together, we reviewed the photo in question, along with ASME B30.9. Section B30.9-5.10.4 (d) states: "Slings in contact with edges, corners, protrusions, or abrasive surfaces shall be protected with a material of sufficient strength, thickness, and construction to prevent damage." We also considered ASME B30.9-5.10.4 (o) which states: "Slings should not be constricted, bunched, or pinched by the load, hook, or any fitting."
Armed with this knowledge, our Training Solutions Team, with the assistance of our Field Services division, took a series of photographs to illustrate the problem and offer a solution for our client.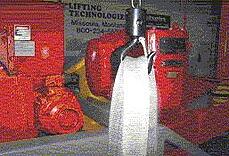 The first photograph (to the right) is a replication of the photo submitted to us, which clearly shows that there is too much rigging in the hook, and the rigging might be oversized in relation to the size of the hook. This is a situation where the latch might damage the sling in use.
Our Field Ser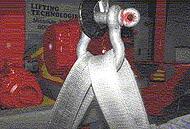 vices division and Training Solutions Team agreed that the first option would be the use of a screw pin anchor shackle and to rig from the shackle. This is an "acceptable" alternative to rigging directly from the hook. The photo at left illustrates this suggestion.
The final suggestion is what we considered the superior option to help solve the client's problem. It is the utilization of a master link subassembly and two flat s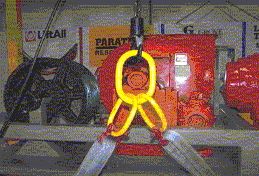 hackles, which prevents sling bunching and helps protect the slings from sharp edges.
Furnished with these new ideas, the client responded with excitement and gratitude that there were better options than what he was using which would save his slings and provide a better overall rigging experience for his company.
The ITI Training Solutions Team (shown below) is always available to take questions from the field and provide feedback. If you have questions about safe rigging practices, please feel free to contact the team: Neil, Valerie, Jeff, or Christina and be sure to check out our rigging training programs. ITI and staff will be there for you to help you "Rig it Right".