ITI VR Boom Truck Simulator Demos Also Available in Booth #3642
Sept. 3, 2019 (Guthrie Center, Iowa) DICA will debut a new addition to the ProStack Cribbing product line designed for the types of equipment used in the electrical utility industry. ProStack® interlocking cribbing blocks will be on display along with a variety of the company's Outrigger Pads and Crane Pads at the International Construction and Utility Equipment Expo (ICUEE), Oct. 1-3, 2019, in Louisville, Ky.
The new ProStack Cribbing product is a ligher weight and lower cost solution that was developed with customer input to meet the specific needs of this market. "DICA's new ProStack Cribbing product is a perfect fit for aerial devices, digger derricks and boom trucks," said Kris Koberg, CEO. "The combination of variable height, interlocking stackability and compability with SafetyTech Outrigger Pads gives utility line workers safety, stability, and versatility they need when working in unlevel environments."
Utility crews often need additional height under stabilizers and outriggers to level equipment during operations. ProStack Cribbing Blocks are an engineered, integrated solution that resolves this critical problem. The interlocking blocks can be stacked for additional height to create a safer set-up than traditional methods. ProStack Cribbing is made from a combination of post-consumer recycled and new materials to produce a strong and reliable finished product that interlocks into a SafetyTech Outrigger Pad.
SafetyTech® engineered thermoplastic outrigger pads deliver proven performance , durability and ease of use for setting up mobile cranes, concrete pumpers, aerial lifts and digger derricks. Popular with utilities are DICA's Hi-Viz 18"x18" and 24"x24" SafetyTech Outrigger Pads due to their unbreakable strength, lightweight, and ease of use. In addition, specific setup needs can be met with DICA's Cavity Pad Plus, Cleated, Sliding Shoe, and Pole Puller Pads.
Read the full press release at dicausa.com.
See all upcoming ITI VR demo opportunities, or set up a custom session here.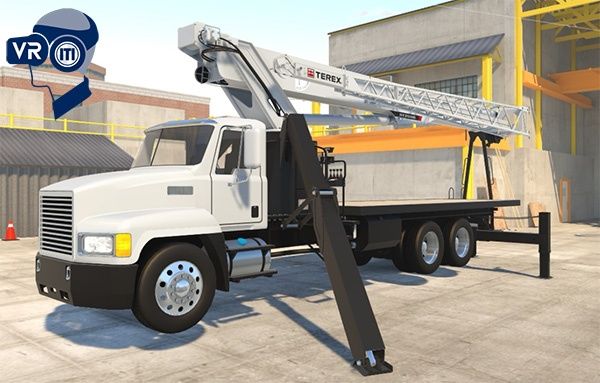 About DICA
DICA is a family-owned and operated company that specializes in building high performance engineered outrigger pads, crane pads, and cribbing blocks that are lightweight, easy to use, and long-lasting. DICA products are proudly Made in the USA, ASME B30.5 compliant and used by operators in 40+ countries around the world.
About ITI VR
ITI VR encompasses the most widely used VR crane and equipment operator training and assessment platform the industry has ever seen. ITI VR harnesses the technology of virtual reality and is infused with the technical industry knowledge and educational design of Industrial Training International (ITI) subject matter experts to provide fully immersive, hands-on, practical operator training. Among the suite of crane types available within ITI VR includes Rough Terrain, Lattice Boom Crawler, Boom Truck, Carry Deck, Overhead Crane, and Tower Crane models built exactly to the original equipment manufacturer specifications. The pioneering subscription model allows ITI VR Community members unlimited content updates including, new crane types, training scenarios, and environments as they become available. ITI is a global leader in training and technical services for users of load handling equipment and has been a pioneering force in the load handling industry since 1986.