There's no doubt that the US Military harnesses the power of the latest technology and ravenously searches for opportunity to increase efficiency and reduce costs to maintain its position as both a formidable power and active peacekeeper. It's no surprise then that they've been implementing Virtual Reality (VR) solutions across their branches, particularly the Air Force with the associated high costs and risks of training activities. What is incredibly valuable and attainable from this for the rest of us is the exceptionally reasonable price tag and high return on investment for VR training technology.
Image from Road to VR
Case and point, in 2018, a Task & Purpose article titled "The Air Force Used VR To Train Pilots In Half The Time At A Fraction Of The Cost" explained how the USAF integrated virtual reality into an existing 12 month program and was able to achieve the same learning outcomes in under 6 months, at a fraction of the cost. How is it possible that such an advanced and longstanding program see such drastic changes?
Efficiency. Integration of the VR headsets within traditional training allowed students to "take flight" quickly, safely, and as needed by eliminating the cost and logistics of preparing aircraft, airfields and instructors to fly with them. This in addition to advancements in VR simulation with compact, portable hardware that allows for quick and convenient configuration changes without having to swap out conventional parts and equipment. 50% decreases in training time are not unique to the US Air Force, recognizable companies such as United Rentals have also seen these reductions in time (Hughes, 2019)
Effectiveness. Allowing students to practice concepts immediately after experiencing passive teaching methods - lecture, demonstration, reading - more than doubles retention rates from 30% or less to 75% or greater. (Kelly, 2012)
Cost. Technology advancements have drastically decreased the space, costs and hardware required to take advantage of fully immersive VR simulator training which allows for on-demand, highly engaging learning. The benefit realized by the US Air Force was moving from $14.5 mil per simulator to $1,000 per unit (Szolda, 2019).
ITI VR Crane Simulator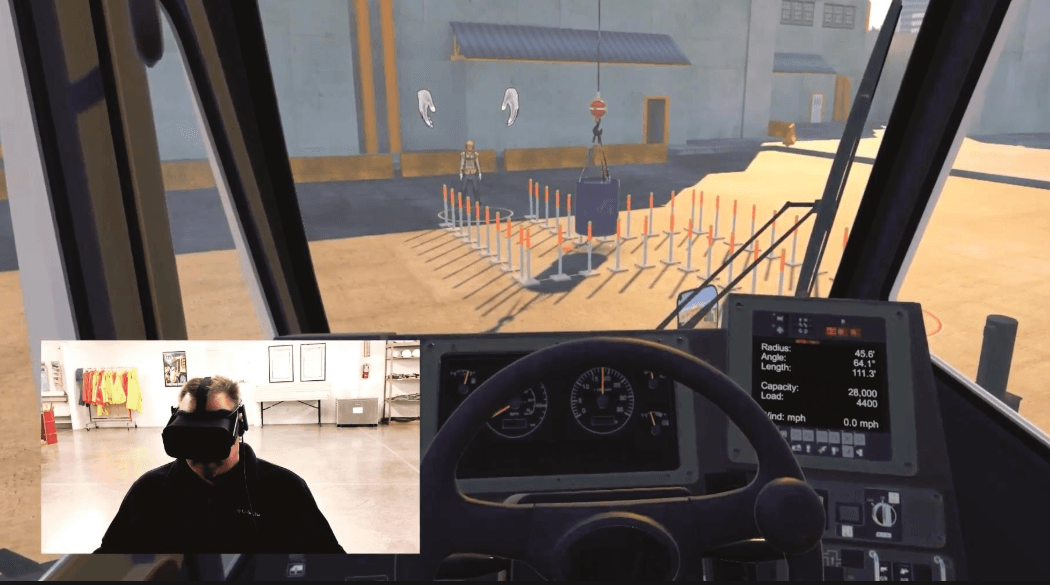 Whether training in a cockpit or a crane cab, the benefits of VR simulator training for equipment operators are undeniable. The US Air Force was able to train at a "fraction of the cost" because virtual reality, the ITI VR Crane Simulator is fully immersive and offers either a portable desktop or full motion base hardware configuration to meet a variety of use cases and budgetary constraints without sacrificing fidelity.
VR simulation is a proven training tool that alleviates risk, saves equipment and personnel time and costs, and improves retention and recall. Cost and efficiency savings in training and post-training, similar to those seen by the US Air Force, are attainable and valuable for crane operations. Your opportunity for cutting edge technology, training and safety improvements, and efficiency is here.
The ITI VR Crane Simulation Library consists of over 1,000 hours of content across 7 crane models, and is trusted by dozens of organizations including Bechtel, US Navy, TVA, and General Electric. Learn more about our customer community at https://www.iti.com/vr/customer-community.
For more information about ITI VR, visit www.iti.com/vr.