FOR IMMEDIATE RELEASE
Contact: Jonah Hobson, Marketing Manager
Telephone: 1-800-727-6355
Email: jonah@iti.com
Edmonton Training Centre Courses Receive LEEA Accreditation
After undergoing a site audit and instructor evaluation in May of 2014, Industrial Training International (iti.com) is pleased to announce that all courses conducted at the new ITI Edmonton Training Centre have been accredited by the Lifting Equipment Engineers Association (LEEA).

ITI went through the same procedure at its Woodland, Washington Headquarters and Training Center in 2012. Completion of the process lead to ITI becoming the first professional training company in North America to be LEEA accredited.
The audit and evaluation process entailed:
A corporate audit of ITI as an organization
A complete audit of all course curriculum and examination processes of ITI
Individual presentation-skill audits of all ITI instructors
Facility audit to determine compliance of ITI Training Centres
Courses offered at the ITI Edmonton Training Centre that are now LEEA Accredited include: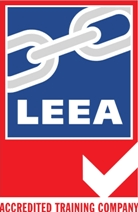 Certified Rigging Gear Inspector Level I & II
Overhead Crane Operator
Journeyman Rigger
Lift Director & Critical Lift Planning
Master Rigger
About LEEA
The Lifting Equipment Engineers Association (LEEA) is established as the leading representative body for all those involved in the lifting industry worldwide. The Association has played a key role in this specialized field for over half a

century, from training and standards setting to health and safety, the provision of technical and legal advice, and the development of examination and licensing systems.
The LEEA was founded in 1944 as the Chain Testers' Association of Great Britain. The name was changed to its present form in 1988 to more accurately reflect the activities of their worldwide Membership. On January 1, 2000 LEEA became a company limited by guarantee and is owned and financed by Members.