Engineered Sling Protection Companies in a variety of industries use different types of rigging equipment to handle loads of all shapes and sizes. Certain loads require the use of a specific type of sling. Often, employees in steel manufacturing and welding/fabrication use chain slings to rig and move ingots, slabs, plate, pipe and finished products. The work environment is rough and tumble, often at elevated temperatures which require rigging that will withstand the affects of corners and edges of materials in a dependable manner.
Other industries that depend on chain slings as the material of choice include stevedoring, shipbuilding, and heavy construction. Metal mesh slings are generally restricted to manufacturing where dipping and product cleaning is practiced. These flexible slings handle objects that may be in bundles or in-process lengths. They are fairly dependable in limited heat and chemical applications and are typically used in pairs from the ends of a lifting beam in choker or basket hitches. They are resistant to load corners to a degree and can be coated with synthetic rubber-like material to provide friction when handling smooth objects. Wire rope slings are flexible and reasonably durable, but have a "memory" often taking on the contour of the load they are rigged to. Because of wire rope's round shape, very few protectors have been developed for defending the wires and strands from load edges. Wires are often ripped or shredded resulting in some loss of strength and this condition can present a hazard to employees who handle the slings.
The construction world often uses wire rope slings when utility loads such as steel beams, rebar, concrete or steel pipe, and wood or concrete piling are picked and handled on a repetitive basis. Newco Manufacturing makes a host of wire rope sling protectors to help defend the wires/strands during lifting (photo 1).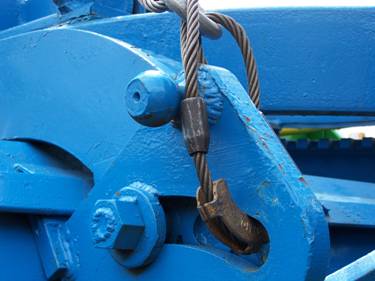 #1
Also, Interfron from Italy offers an aluminum "hinged" magnetically connecting device with a large groove to help form an arc, for the wire rope to bear against at load corners (photo 2).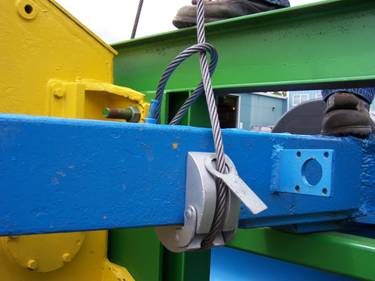 #2
Synthetic rigging such as flat web slings, synthetic roundslings and synthetic rope slings are common in many industries. They are flexible and lightweight when compared to their counterparts and easy to store. The volume of synthetic rigging in toolrooms and gang boxes has grown substantially since the 1960's and will continue to do so in the foreseeable future. By nature of the material, they are susceptible to cutting and friction damage against load edges and surfaces. Of the 60 crane and rigging accident cases investigated by ITI in the last 25 years, 30 have been related to sling damage/failure and 30 were associated with rigging hardware, wire rope (crane operating ropes) and crane/rigging procedures. Of the sling related accidents, 87% involved synthetic web slings or synthetic roundslings. During our investigations, no synthetic slings failed due to improper manufacture or fabrication. To date, we have not found any cases yet where loads at high temperatures (1800+F) were the primary cause of failure. A handful of accidents involved ultraviolet ray degradation that caused significant loss of tensile strength resulting in a dropped load. In the lion's share of cases, the cause of failure could be directly tied to external abuse. Load edges and super rough surfaces often created localized friction or cutting damage to the synthetic sling muscle, whether web fibers or core yarns. A significant contributor to synthetic sling damage is sling sliding, which can often melt or cut through even engineered sling protectors.
In Photo 3 (right), note that sling sliding resulted in a failure that produced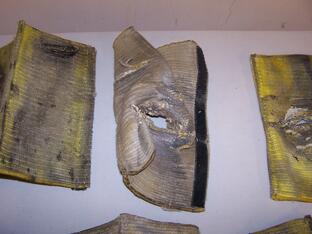 a fatality, due to heat generated between the load edge and web protector/enclosed web sling. As a general rule there are two basic rigging methods. The first method involves slings rigged directly between the crane hook and load shackles at the load. The slings touch only selected rigging hardware. The hardware needs to be "clean", meaning no burrs, scoring or surfaces that can cause cutting of the synthetic slings. The second method generally involves rigging the slings directly to the load via basket or choker hitches. During the "direct contact" type applications we need to incorporate sling protection that will hold the sling away from edges or locations that can cause cutting damage. "Old school" practices allowed for sling protection to be made from retired slings (cut in 12" pieces), old fire hose or leather. We as users must start employing a more serious grade of sling protection, especially for synthetic slings. The material must be able to push or hold the sling away from the load edge during the lifting activity. A new type of rated and engineered sling protection in the marketplace is made by Linton Rigging Gear Supply. The patent pending design involves a piece of high density plastic round stock that is machined with a 900 notch designed to hug the load corner by lightly connecting with magnets.
Also available is a style that fits to the flange of an I-beam (photos 4 and 5).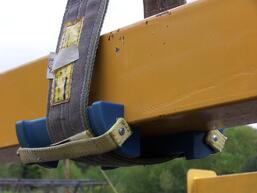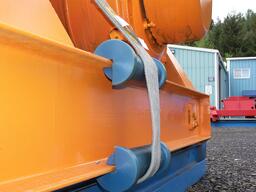 #4,5
The Meshguard by Lift-It Manufacturing incorporates metal mesh belting in a webbing sandwich (photo 6).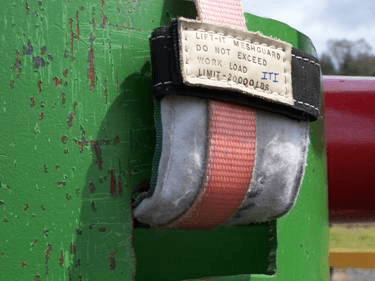 #6
With contact pressures in the tens of thousands/lbs/inch/wide, the sling protection must be substantial and have the structural integrity to withstand the exerted force at the contact point. Often, the more important consideration may be the capacity of the engineered sling protection as the limiting factor, if it less than the sling in use. An important consideration is the overall width of the sling protection and its allowable loading per inch of width, when compared to the anticipated sling loading per bearing inch of width. Scott St. Germain of Slingmax notes that the Cornermax Pad has, "internal spacers that create a "tunnel" of cut protection, separating the pad and the sling from contacting the 900 load edge" (photo 7).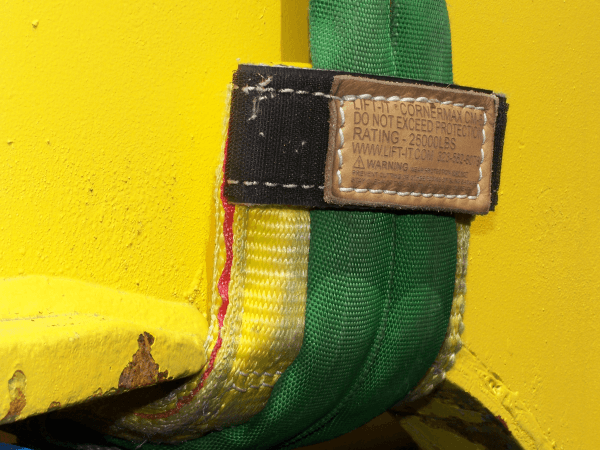 #7
This protection is designed with encased plastic rods that help create a barrier between the sling and load. Some sling protectors are made from super high density synthetic fibers sleeves (photo 8), which provide exceptional resistance to cutting.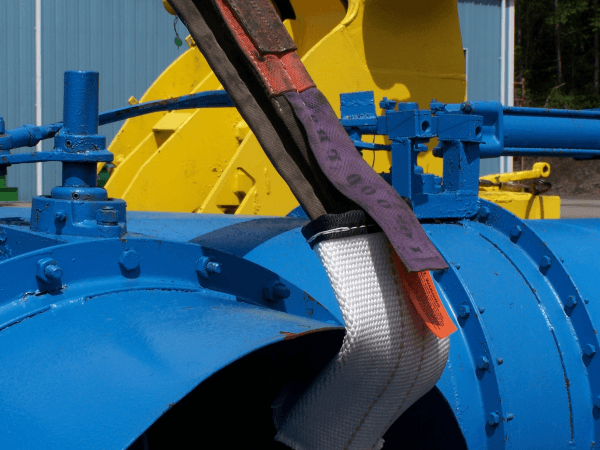 #8
Other materials in the marketplace that are intended to provide resistance to abrasion and can be made from a radiator hose like material, steel-belted flat rubber, reinforced rubber conveyor belting or heavy duty webbing (photo 9).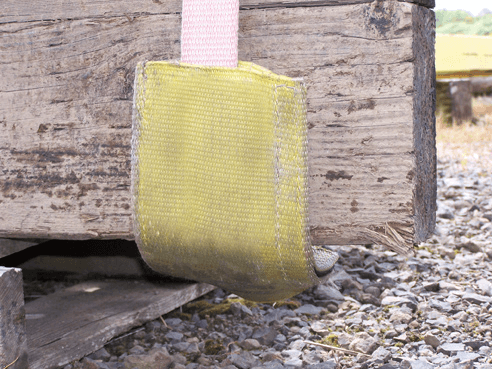 #9
Slings can also be coated with neoprene or a rubberized compound to help fight abrasion and repel foreign matter like metal shavings. The owner/user of the synthetic rigging needs to investigate a variety of options and determine the best selection for their various applications. When employees grab synthetic slings for a job, a new axiom should come to mind, "Slings in the right hand, sling protection in the left hand".
Website addresses for the protection items noted throughout this article.
Photo 1 www.newcomfg.com
Photo 2 www.interfron.it
Photo 3 Damaged sling protector (no web address)
Photo 4 & 5 www.lrgsupplies.com/
Photo 6 & 9 www.lift-it.com
Photo 7 & 8 www.slingmax.com
Additionally, ITI's Rigging Gear Inspector Course takes a deeper dive into the importance of sling protection. Learn more here.
The author, Mike Parnell is the co-founder and technical director of Industrial Training International, Inc. ITI provides crane and rigging training/consulting for hundreds of clients in the U.S. and around the world. Mr. Parnell is the ASME B30 Main Committee Vice-Chair, a member of five B30 Subcommittees, CIC Rigging Certification Committee Chair, and is a charter member of the Association of Crane & Rigging Professionals. He can be contacted at: 360-225-1100 or mike@iti.com.