FOR IMMEDIATE RELEASE
Contact: Jonah Hobson, Marketing Manager
Telephone: 1-800-727-6355
Email: jonah@iti.com
Inaugural ITI Heavy Rigging and Lifting Workshop Applauded by Attendees
Organizations Represented Included:
Suncor - Husky - Canadian Natural - Mammoet - Kiewit - Unirope - Shell - Ledcor - WorleyParsons - JV Driver
The Edmonton Hotel and Convention Centre was the venue for ITI's first Lifting Workshop - the Heavy Rigging & Lifting Workshop, held on June 17-19. The Workshop can only be deemed a success, as organizational leaders, high-impact educational content, and three powerful keynote addresses combined to create a precise mix of education and networking. As promised, the Workshop proved to be much more than a "traditional" trade show or conference, with interactive skills-building sessions, collaborative panel discussions, and invaluable take-home materials for all attendees.
From the Welcoming Address to the closing remarks, the Workshop achieved its mission of – Improving lifting operations by educating organizational leaders. According to attendees, exceptional workshop sessions included - Advanced Rigging Foundation and Critical Lift Planning: Compressor Installation Project (Mike Parnell, President and Technical Director, ITI), Heavy Lift Shackles & Hooks with Heavy Lift Exercise (Roger Ohman Jr., P.E., Technical Advisor, The Crosby Group), and Competency, Training & Qualification of Personnel (Steve Fryer, Director of Training, Northern Crane Services, a NCSG Company).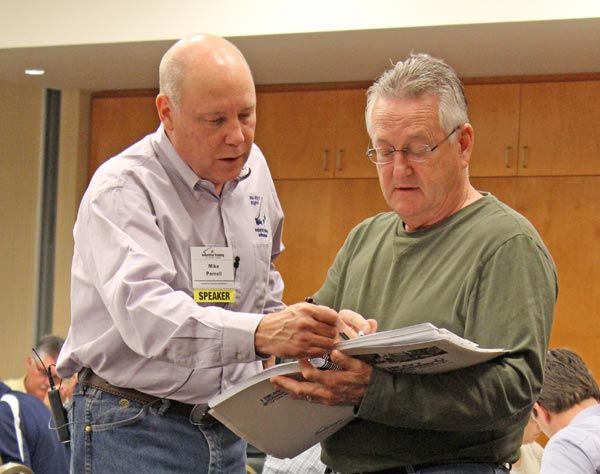 When asked his opinion of the Workshop, Rick Anderson, Instructor for Mobile Crane Apprentices, Operating Engineers Training Association Local 115, enthusiastically responded, "I would recommend [ITI Workshops] to anybody who works with a crane. This was very educational and the rigging part is so important. I think it's very good for ironworkers, boilermakers...anyone who works with a crane."
ITI acknowledged that the Workshop was successful in large part due to the participation of their event partners and would like to thank: UNIROPE Ltd., JuneWarren-Nickle's Energy Group, Columbus McKinnon, A1A Software, KOBELCO, Northern Crane Services Inc., Lifting Equipment Engineers Association (LEEA), Magna Lifting Products, and Strongco Corporation.
The Workshop is the first of three which ITI will be presenting in 2013. The Oil Sands Lifting Workshop in Fort McMurray, AB, will take place September 4-6, and the Power Generation Lifting Workshop in New York, NY, will run from November 6-8. Workshop dates and locations for 2014 will be finalized and made public in the coming months.
To learn more about ITI Workshops call 1-800-727-6355.