August 9, 2012 – For Immediate Release
Industrial Training International (iti.com) held its sixth episode of the ITI Showcase Webinar Series on Thursday, August 2nd. The Series features ITI President/CEO Mike Parnell presenting monthly topics relevant to corporate stakeholders managing crane and rigging activities and personnel. There have now been more than 1,100 participants in the six webinars to-date.
On Thursday, the Lift Planning Considerations webinar had 242 registrants representing 22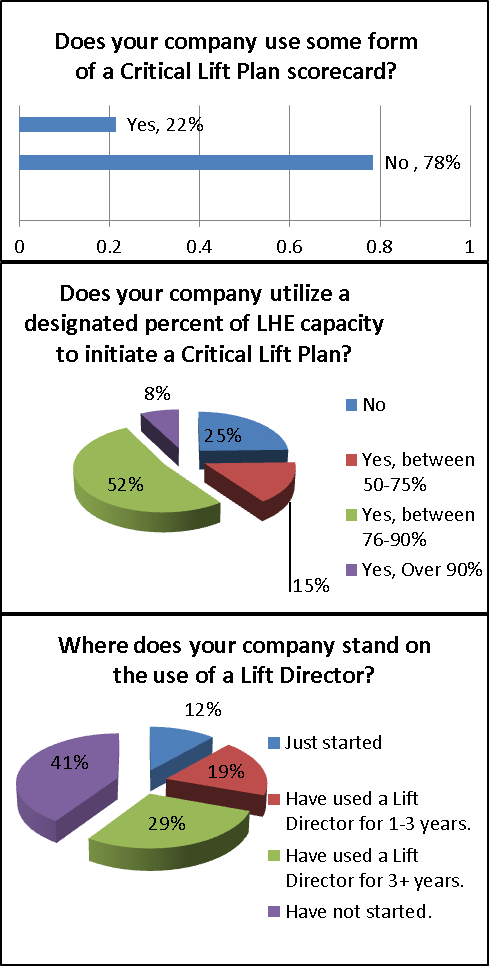 countries, including 48 US States and 7 Canadian Provinces.
Organizations represented included Alstom Wind & Power, WorkSafeBC, ASSE, BAE Systems, BP, CH2M Hill, Disney, Duke Energy, DuPont, Entergy, Fluor, GE Energy, Kiewit, Jacobs Engineering, Manitowoc, Mitsubishi, Siemens, Shaw Group, Tesoro, Crosby, ThyssenKrupp Steel, US Army Corps of Engineers, US Navy, URS Corporation, and Vestas among others.
ITI's August webinar held some interesting poll results (right) as Mr. Parnell's agenda included forming a decision-tree, standard vs. critical lifts, verbal and written plans, and managing risk.
About the Speaker: Mike Parnell has a wealth of knowledge regarding cranes, rigging, and lifting activities throughout a variety of industries. He currently sits as the Vice Chair of the ASME (American Society of Mechanical Engineers) B30 Main Committee which sets the standards in the US for cranes and rigging equipment and activities. He is also the Chair of the ASME P30 Main Committee which sets the standards for lift planning. ASME standards are adopted by many countries around the world including Canadian federal and provincial regulations.
About ITI: ITI operates businesses in the USA and Canada; crane and rigging training and consulting services are conducted worldwide.
To learn more visit iti.com or contact 1-360-225-1100.