CCO announced that effective January 2023, CCO's Mobile Crane Operator Program will see updates that will create consistency and improve the overall testing process. You can view the full CCO Press Release here.


Mobile Specialty Written Exam Load Chart Updates

Certifications issued by CCO have never been equipment manufacturer–specific, yet candidates have been required to choose a load chart for a specific manufacturer to test on. This creates confusion as to whether the CCO certification is equipment manufacturer-specific, encourages training to specific load charts over general theories and principals of crane operation, and limits the knowledge areas that can be tested.

For these reasons, starting January 1, 2023, for all Mobile Crane Operator Specialty exams, CCO will offer a single exam option, using a generic load chart, rather than offering multiple manufacturer-specific load chart options. The exams will be listed as follows:

Lattice Boom (LAT) specialty written exam

Telescopic Boom—Swing Cab (TLL) specialty written exam

Telescopic Boom—Fixed Cab (TSS) specialty written exam

This change will simplify the testing process for candidates as they will no longer be required to choose a load chart option. It will encourage candidates to be more well-rounded operators who are not just tested on how to find data in a chart, but also how to use the data as required in the field.

Candidates can review the new load charts at www.nccco.org/MCOcharts0922.

Candidates taking exams at Event Online Testing (EOT), Online Proctored Testing (OPT), or paper pencil (PPT) administrations on or after January 9, 2023, will test with the new generic load chart(s). Candidates applying for Computer Based Testing (CBT) on or after January 1, 2023, will be registering for the new exam and will test with the new generic load chart.
Prepare for Mobile Specialty Written Exams with the following ITI Learning Hub courses - which can be purchased a la carte or integrated into your company's custom Learning Paths.
- Mobile Crane Load Chart Basics: Diagrams, video, and animation covering crane load charts, load chart damage mode indicators, and range diagram(s). Each topic is introduced by an ITI Instructor followed by an interactive learning activity. Content should take learners 20-40 minutes to complete.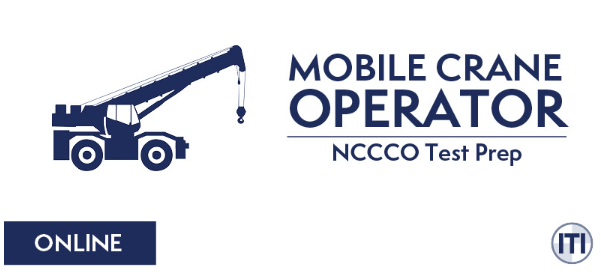 - Mobile Crane Operator NCCCO Test Prep: To assist crane operators that need to comply with the newly revised OSHA 1926.1400 regulations, which requires crane operators working in construction or performing construction-related activities to be certified through a nationally accredited agency, ITI offers an online Mobile Crane Operator Certification Test Prep Course. This e-learning program is designed to prepare participants to take the general and crane-specific exams for national accredited agencies. This course takes approximately 12 hours to complete.
Interested in learning more about piloting the courses at your company? Set up a call with an ITI Learning Hub Specialist today!
About The National Commission for the Certification of Crane Operators
NCCCO was formed in January 1995 as a non-profit organization with its mission to develop effective performance standards for safe load handling equipment operation to assist all segments of general industry and construction. By providing thorough, independent assessments of knowledge and skills, NCCCO aims to enhance lifting equipment safety, reduce workplace risk, improve performance records, stimulate training, and give due recognition to the professionals who work in, with, and around load handling equipment. For more information visit nccco.org
About ITI
Industrial Training International (ITI) is a global leader in the design and delivery of learning solutions for organizations conducting crane, rigging, and load handling activities. Founded in 1986, the company originally specialized in instructor-led training, field services, and consulting. ITI has since grown to also produce live online, and on-demand courses delivered via the ITI Learning Hub and has been recognized with numerous industry association awards for its groundbreaking virtual reality crane and equipment simulations solution. For more information about ITI, visit www.iti.com