We are thrilled to announce that ITI is the 2022 Cognition Business Impact Award Winner! The Thought Industries 2022 customer awards recognize customers who have leveraged
the Thought Industries Enterprise Learning Platform to maximize the value and impact of
their learning programs. The award recipients span four categories of recognition:
Innovation, Performance, Platform and Overall Excellence. They represent a cross section
of industries using the platform to provide exceptional learning experiences for
customers, partners and professionals.
"Our customers are incredibly creative and innovative in the ways they construct their own journeys to excellence in customer, partner, and professional training," said Robin Wadsworth, President, Thought Industries. "We at Thought Industries are proud to support the work they do to create best-in-class learning programs."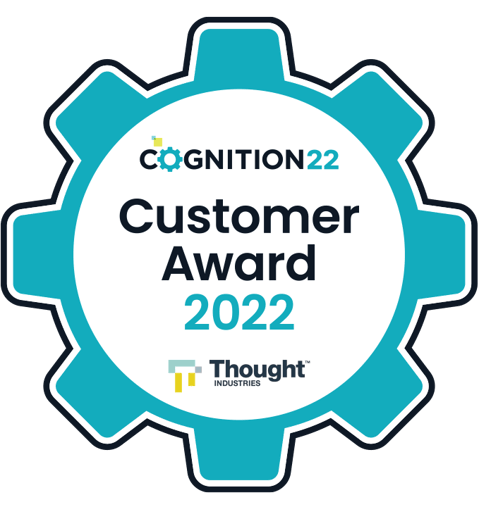 The Performance Award Category recognizes customers who are achieving extraordinary
results using the Thought Industries platform. This includes organizations who saw
exceptional returns from their platform use, as well as those who saw huge improvements
in learner experiences and business performance.
Industrial Training International (ITI) is a company that has continuously exhausted all
efforts to lead the world in training skills and providing quality service in order to save
lives and improve the industrial activities of the employers they serve, which is the reason
they received the Business Impact award.
See how the ITI Learning Hub can help power your team's learning and professional development with a free demo today!
Nominations for these awards were presented by the Thought Industries team that knows
them best - Customer Success. Entrants were then evaluated by other teams within
Thought Industries and the winners were announced at the Customer Awards
presentation during Cognition22 on October 3, 2022.
About Thought Industries
Thought Industries powers the business of learning with the industry's leading enterprise
learning platform for customer, partner and professional training. The company was
founded in 2014 around the core belief that online learning experiences should be
modern, intuitive, engaging, and scalable. Today, the Thought Industries growing team
builds and maintains the only learning platform with completely native tools and
integrations that drive higher customer engagement, learner proficiency, and retention.
Headquartered in Boston, Thought Industries has offices across North America and
Europe. For more information, visit thoughtindustries.com.
About ITI
Industrial Training International (ITI) is a global leader in the design and delivery of learning solutions for organizations conducting crane, rigging, and load handling activities. Founded in 1986, the company originally specialized in instructor-led training, field services, and consulting. ITI has since grown to also produce live online, and on-demand courses delivered via the ITI Learning Hub and has been recognized with numerous industry association awards for its groundbreaking virtual reality crane simulator solution. For more information about ITI, visit iti.com