We are excited to share that ITI now has a dedicated, virtual classroom! That's right, we have fully equipped (i.e. teched out 📽️🔌) one of our Houston, TX classrooms in order to provide students with our award winning, Instructor Led Training via simulcast. Now students have the ability to join our classroom sessions from virtually anywhere!
First up on our list of Simulcast Trainings is one of our most requested courses: NCCCO Mobile Crane Operator Certification Test Preparation. Scheduled to run March 7th-9th 2022, this course delivers three days of test preparation to ensure mobile crane operators are prepared to take the NCCCO nationally accredited exams. Note: This is a virtual classroom only session (run in conjunction with the live in-classroom course, hence simulcast), and includes training, sample exams, and load chart exercises.
Technology Requirements:
You must have a stable internet connection.
Webcams are required to be on during classroom sessions.
Microphones are required to allow for student/instructor interaction.
Your computer must allow for Zoom Meetings to run.
Who Should Attend:
This program is designed to prepare participants to take the general and crane-specific written exams in the NCCCO Crane Operator Certification Series. The following Certification Categories are offered:
Lattice Boom Crawler (LBC)
Lattice Boom Truck (LBT)
Telescoping Boom Swing Cab (TLL)
Telescoping Boom Fixed Cab (TSS)
Course Materials (for simulcast attendees)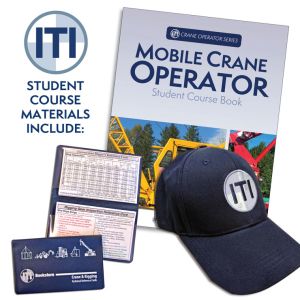 Upon Completion
Each student that completes the full 3-day course will receive Continuing Education Units (CEUs), as well as a certificate of completion.
About ITI
Industrial Training International (ITI) is a global leader in the design and delivery of learning solutions for organizations conducting crane, rigging, and load handling activities. Founded in 1986, the company originally specialized in instructor-led training, field services, and consulting. ITI has since grown to also produce live online, and on-demand courses delivered via the ITI Learning Hub and has been recognized with numerous industry association awards for its groundbreaking virtual reality crane simulator solution. For more information about ITI, visit iti.com