Parnell to Keynote Safety Week 2015 Kick-Off at SafeBuild Alliance
Mike Parnell, Technical Director & CEO, will be the Keynote Speaker at SafeBuild Alliance breakfast meeting on May 1, 2015. This meeting was scheduled to kick-off Safety Week 2015, May 3-9 as well as represent SafeBuild Alliance's 2nd Quarter meeting. Mr. Parnell will challenge attendees to evaluate how hazards, risks, and unfamiliar tasks have been handled by past generations and how today's employees and organizations need to earnestly recognize their strengths and weaknesses in order to achieve project success while lowering risks.
Registration information for the breakfast-meeting can be found at www.safebuildalliance.com.
SafeBuild Alliance is a nonprofit organization that works to transform workplace cultures to achieve injury free construction projects in the Greater Portland, Oregon area. Membership is open to any individual or organization who agrees to promote the mission of SafeBuild Alliance and share processes and procedures that further efforts to transform safety cultures to achieve injury free construction projects.
SafeBuild Alliance members include organizations like Anderson Construction, BMWC, Boeing, CH2M Hill, City of Portland, General Sheet Metal, Hoffman Construction, JH Kelly, Mallory Safety & Supply, Omega Morgan, Skanksa USA, Slayden Consruction, and many others. ITI became a member of the group in 2015.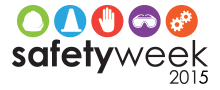 SafeBuild Alliance is coordianting this breakfast with Safety Week 2015. According to the Safety Week 25 website every year, more than 80,000 workers suffer an injury on construction job sites across the U.S. Any one incident is one too many. Life is too precious to not make safety the number one focus in the U.S. construction industry. That's why over 40 national and global construction firms comprising The Construction Industry Safety (CISI) group and the Incident and Injury Free CEO (IIF) Forum have joined forces with a single aim: to inspire everyone in the industry to be leaders in safety.
From this aim, Safety Week is now in its second year. On the Safety Week 2015 website, information includes:
What is Safety Week?
Why Safety Week?
Who We Are
How to Conduct a Saferty Week
Safety Week Resources
Personnel can also participate on the Safety Week 2015 LinkedIn Group and join the discussion.