FOR IMMEDIATE RELEASE
Telephone: 1-800-727-6355
Email: info@iti.com
Rigging Engineering: A Ground-Breaking New Training Program
Industrial Training International (iti.com), a world leader in crane, rigging and lifting educational services, is very pleased to announce a new, comprehensive training program that aims to provide foundational knowledge in the arena of rigging engineering.
Fundamentals of Rigging Engineering combines 14 of the brightest minds in the lifting and hoisting industry with an innovative and intuitive learning format to produce a program that is truly extraordinary. Notably, this Program is being developed under the guidance and management of J. Keith Anderson who currently serves Bechtel as its Chief Rigging Engineer. Mr. Anderson has just released a book titled Rigging Engineering Basics, which is the fundamental text for this Program. Learn about the Program at riggingengineering.com.
Heavy crane, rigging and lifting activities take place in a variety of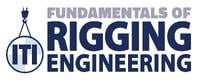 industrial environments. Engineers come on the scene with backgrounds in mechanical, civil, structural or other branches of engineering. However, in most engineering degree programs, students learn little to nothing about crane and rigging activities. Most engineers who enter this field are then required to learn on-the-job.
On the other end of the spectrum are field-experienced crane and rigging managers who have graduated through the ranks to take on key roles such as lift planner, crane or rigging superintendent, or master rigger. In general, these individuals have already learned a great deal on-the-job, but lack the formal engineering education behind load handling activities.
Fundamentals of Rigging Engineering seeks to serve both of the aforementioned groups by providing foundational knowledge in rigging engineering by exposing students to what they need to consider and provide them with the resources to assist them in solving lifting challenges when they arise.
Program Highlights
250+ Hours
With engaging problem-solving assignments, video instruction from leading engineers, reading assignments, discussion questions and exams, participants will be challenged and conditioned with over 250 hours of theory and practice in rigging engineering. Learn more on the About Page.
14 Industry-Leading Engineers as Instructors
If you were to set out and build a "dream team" of engineers involved in crane, rigging, and load handling activities, these industry-leaders would be on it! Participants will learn and interface with these engineers, gaining knowledge from the best in the business. Learn more on the Instructors Page.
10 Courses to Choose From
This Program is comprised of five "required courses" and five "elective courses". Participants wishing to complete the entire Program must complete the required courses as well as two elective courses. The required courses encompass the core elements of rigging engineering, while the electives allow participants to select subjects more specific to a few skill areas including heavy transport, regulations, advanced hands-on rigging and more. Learn more on the Courses Page.
Hybrid Learning Formats
Online & On-Demand | Hands-On
Much of the feedback received about this Program from engineers in the industry was that they preferred it to be achievable online and on-demand. By delivering the Program in this format, participants are able to learn from a distance and complete the Program while they are working. In addition, there are several elective courses that allow participants to learn at ITI Training Centers in a hands-on learning environment. Learn more on the Format Page.
Fundamentals of Rigging Engineering will be available in January 2015. If you are interested in being a part of the initial student "intake", ITI is offering a promotional registration opportunity. For more information regarding this promotion or general information about the Program, visit http://www.riggingengineering.com, or contact ITI Manager of E-Learning, Christina Lanham at christina@iti.com or 360-225-1100.