A crew must load out a short bridge column which will be used in a creek bed to support one end of a light bridge deck. The crew rigged the precast column at two locations about 20 feet apart. Using two cranes, they have decided to determine the location of the column's center-of-gravity so that they can load the column onto an over-the-road trailer. By properly placing the column onto the trailer, the resulting axle loading allows the tractor trailer to not exceed any travel limits.

Use Panel 2 of the Journeyman Rigger's Reference Card to help solve the question about the column's CG. Instead of using Run1 and Run2, consider replacing them with Weight1 and Weight2, to arrive at the percent distribution, times the total span of 20 feet. To double-check your work, remember "Short Stout, Long Light". Translated, that means that the CG is a short distance from the stout (heavier) end, and a long distance from the light end.

Journeyman Rigger's Reference Card Panel 2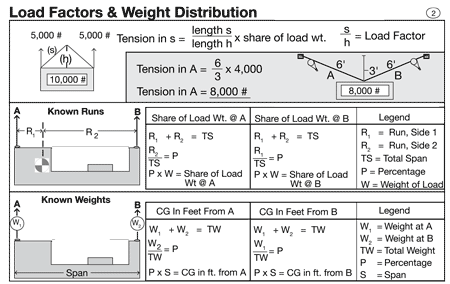 Assignment: Estimate the location of the column's center-of-gravity from the "head-end". (Answer below)

The CG is ______ ft from the head end.
Happy trails to all my crane and rigging friends,
Mike Parnell
ITI-Field Services

P.S. This article was originally published in The Professional Rigger Newsletter - Crane & Rigging Quiz.
Answer: