Specialized Transport & Heavy Lift Master Class, New Reference Card, and Rigging Engineering Participation Solidify Partnership between Van Daal and ITI
Marco van Daal, internationally renowned heavy transport authority and author of The Art of Heavy Transport, has collaborated with Industrial Training International (iti.com) on a number of new offerings for 2015. Already an instructor for the Fundamentals of Rigging Engineering Program, specifically the Specialized Transport elective course, Mr. van Daal leans on his 25+ years of experience in the Heavy Lift Industry to provide a unique and insightful look at potential challenges facing personnel in the Heavy Lift & Specialized Transport space. In addition to Mr. van Daal's involvement in the world's only Rigging Engineering Training Program, an instructor-led Specialized Transport & Heavy Lift Master Class, and a brand new Hydraulic Platform Transporters Reference Card are now available through ITI and the ITI Bookstore respectively.
Specialized Transport & Heavy Lift Master Class
The efficient and safe execution of heavy transportation involves specialized load handling equipment and various modes of transport. This course is designed for personnel involved in specialized transport from contract transport organizations and original equipment manufacturers (OEM) to engineering companies and project owners in the oil and gas, power generation, and other plant-environment industries.
The engineering principles of hydraulic platform trailers (HPTs), like self-propelled modular transporters (SPMTs), are delved into along with a variety of other load handling equipment. Heavy lift, jacking and skidding, and load-out (roll-on/roll-off) project case studies are utilized for students to gain a broad understanding of the art and science of specialized transport and heavy lift operations.
Course Subjects
Introduction & Terminology
Dimensions & Weights
Center of Gravity
Heavy Transport
Heavy Lifting
Jacking & Skidding
Anatomy of an Accident
Maintenance

Ro-Ro Operations
The Specialized Transport & Heavy Lift Master Class is a two-day course that is carried out at client locations around the world. For a quote call 800.727.6355 to speak to an ITI Training Solutions Expert or Click here to submit a request for quote form online.
Hydraulic Platform Transporters Reference Card
The Works International (Founded and operated by Mr. van Daal), and ITI joined powers to create a brand new reference tool for hydraulic platform work.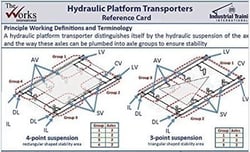 Available exclusively from the ITI Bookstore, the Hydraulic Platform Transporters Reference Card is full colored, two sided, laminated, and offers 16 panels of field reference information. Topics include:
Principle Working Definition & Terminology
Transporter Types & Required Axle Lines
Hydraulic Stability/Tipping Stability
Structural Stability/Capacity
Spine Beam
Ground Pressure
External Forces: Curve or Centripetal Forces
External Forces: Wind & Acceleration/Deceleration Forces
External Forces: Gradient Forces
Lashing & Securing
Goose Neck
Beaufort Wind Scale
The reference card retails for $19.95 and can be purchased by clicking here or calling the ITI Bookstore at 360.225.5858.