ITI has secured a spot on Training Industry's 2023 Corporate Training Landscape Map! That's right, if you look closely our logo can be found in the Simulation, Augmented Reality, Virtual Reality category. We're in good company too! ITI is situated with the likes of Dell and Google VR, among other newer entrants to the Simulation, AR & VR market. According to Training Industry, in order to be included within this particular segment, a company must excel in producing "technologies that allow learners to gain knowledge and skills through hands-on experience using supportive immersive technology solutions."
For the past 10+ years, Training Industry has produced the Corporate Training Landscape as a means of connecting training buyers with the optimal training partners given their respective areas of expertise. To download the full Training Industry Corporate Training Landscape Map, visit: trainingindustry.com/corporate-training-landscape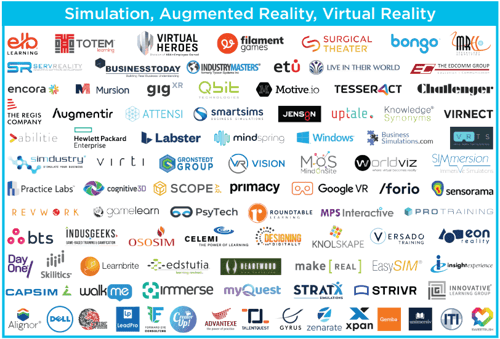 ITI utilizes virtual reality (VR) based crane simulators that were originally brought to market with a partner development studio. The ITI Technical Services (Trainers and Consultants) team provided the crane and rigging knowledge, experience, and knowhow, while also putting in countless hours of user testing, documentation, and verification to ensure ITI VR Crane Simulators offered the most realistic crane simulator experience possible. Additionally, ITI VR Crane & Equipment Simulators feature makes and models from leading original equipment manufacturers, who were brought into the development process to help ensure an experience on par with operating the exact machinery each simulation was designed to replicate.
Over the past few years, we have brought development and management of the full ITI Simulations line completely in-house thanks in large part to scaling up an internal design and development studio team to compliment its crane and rigging subject matter experts. Our skilled Studio team continues to involve industry stakeholders as more crane types and specialty equipment is developed in a virtual environment. ITI Simulations now offers an expansive Virtual Reality Crane & Equipment Training suite featuring varied scenarios and operator learning paths that provide the range of challenges and skill building modules needed to turn beginners into experts. With 9 different crane types and 1,000+ scenarios and virtual crane simulation courses offer the range of challenges needed to turn beginners into experts.
Interested in learning more about how ITI Simulations can help take your team's knowledge to the next level?
Contact an ITI VR Training Specialist today and let's get started!