Rigging training is valuable for professionals across various fields, employers, and other workers because it promotes job-site safety while helping riggers progress in their careers. Whether you're somewhat of a beginner who needs rigger training or you're an expert in the field and want to schedule master rigging training so you can advance, the right training courses will help you succeed in your industry and become an essential leader who can contribute to promoting workplace safety.
The Benefits of Undergoing a Rigging Course
Rigger training can benefit workers in various industrial domains, including carpenters, iron workers, laborers, electricians, mechanics, and others. While these trades are very specific occupations, anyone who needs to move or handle loads will also have the secondary occupational title of a rigger and, therefore, will need to know how to safely handle and move those heavy loads and use the necessary rigging equipment to do so.
Preventing Accidents and Promoting Workplace Safety
Proper rigging techniques are important to job site safety since they are closely involved with crane mechanics. Improper rigging techniques will increase the risk of serious accidents on the job.
By ensuring you or your employees have the necessary training, you can mitigate and prevent accidents and accelerate progress on the job. When the necessary personnel undergo the required training to move or handle heavy loads, everyone on the job site will feel more confident, and there will be no guesswork about proper rigging techniques, which can increase long-term productivity and business growth.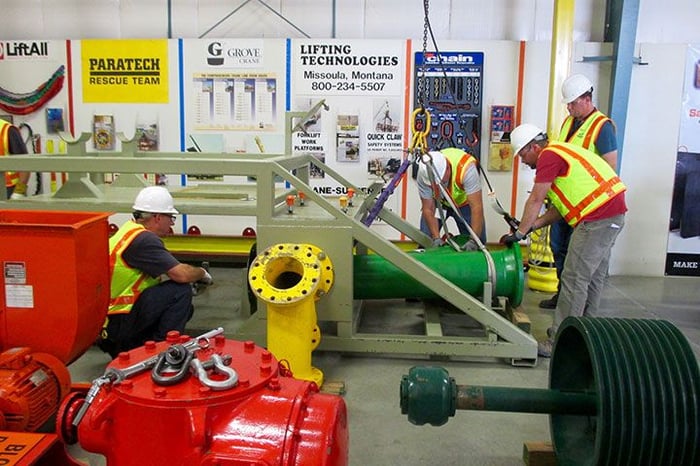 Advancing in the Industry
While proper training ensures a safer work environment for everyone on site, it also benefits each individual trainee. Training classes designed for those who are newer to rigging, intermediate, or experts in their field have significant value and can serve the individual and the entire workplace. There are courses specifically designed for beginners who have never learned proper rigging techniques and are new to the industry.
There are also some courses for intermediates who need additional training to advance their careers and gain new skills and knowledge. Master rigging training is designed for the experts already leading in their industry with skills and experience who want to receive the certification or training to exhibit their mastery. At ITI, training classes are available for riggers of all competency levels that will benefit workers across multiple industries.
If you're ready to enhance your career path with proper rigging techniques or receive additional training, so you can advance in your current role, we can provide you with high-quality training resources and instructor-led classes that will give you exactly what you need.
To learn more about our available training courses and how you can schedule in-person or virtual training classes, visit https://www.iti.com/courses.
About ITI
Industrial Training International (ITI) is a global leader in the design and delivery of learning solutions for organizations conducting crane, rigging, and load handling activities. Founded in 1986, the company originally specialized in instructor-led training, field services, and consulting. ITI has since grown to also produce live online, and on-demand courses delivered via the ITI Learning Hub and has been recognized with numerous industry association awards for its groundbreaking virtual reality crane and equipment simulations solution. For more information, visit: iti.com.