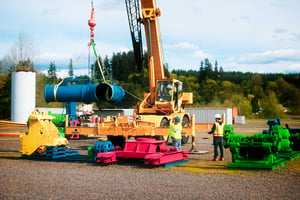 ITI Webinar Archive
View Webinar Recordings
Download Presentation Decks
So you missed a live ITI Webinar session? Don't worry, we have your back!
ITI Webinar Archive
Complete the form for unlimited access to the entire ITI Webinar Archive (Titles are listed below) You will have access to 1.) Recordings and 2.) Presentation Files, for each session...
*Please Note: Some recordings reference ASME P30, B30, and other standards that have since been updated. Be aware of the original recording date within each individual webinar session.
Past Webinars Include:
10 Audit Points for Your Crane & Rigging Operations - An HSE Perspective
10 Points of Lift Plan Development
4 Heavy Lift Challenges in Power Generation Environments
50 Important Crane & Rigging Resources for Your Library
6 Load Handling Knowledge Domains for a Well-Rounded Crane & Rigging Professional
ASME B30 & P30 Developments
Accidents & Incidents - The Human Part
Boom Hoist Wire Rope
Bull Rigging - Who, What, When, Where, Why, and How
Crane & Rigging Brain Teasers
Crane Setup: Ground Condition Surveys & Stabilization Techniques
Effective Crane & Rigging Training Methods for Your Employees
Equipment Signaling Series
Field Inspection of Wire Rope on a Crane
Ground Bearing Pressure: Practical Applications for Lifts of All Sizes
Heavy Transport Horror Stories (& Successes Too!)
How Studies of Crane Accidents & Trends Lead to a Safer Work Environment
How to Manage a Crane Accident
Innovation & Complex Lifting Solutions
ITI Training Solutions
Get the training you need, when and where you need it with ITI Training and Consulting Solutions.
TOUCH
Instructor-Led Training
In-person and virtual live instruction offers students the opportunity for hands-on learning in real world situations, using instructors with 20+ years of relevant industry experience.
More about this Service
TOUCH
ITI Learning Hub
The world's largest collection of crane, rigging, and load handling content - online, and on-demand.
More about this Service
TOUCH
Simulations
Leverage technology to supercharge your training, assessments, and professional development with ITI Simulations
More about this Service