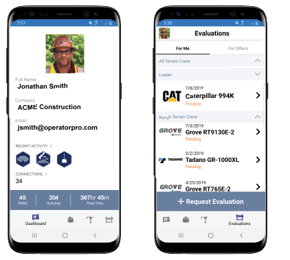 Paperback crane operator logbooks have been around about as long as modern-day cranes (we doubt ancient civilizations required crane operators to keep their scrolls up-to-date).
And because it has been around that long, the logbook certainly provides utility, but in today's world of data and user interfaces, there are several things that a crane operator logbook cannot do. So here's a short list of what a logbook can and can't do.
1. While it CAN capture a record of a shift including any manner of written information like Operator, Supervisor, Crane Make/Model, Crane Capacity, Start Time, End Time, and Comments.
2. It CANNOT capture and display information such as:

Total hours you have operated a Liebherr LR1300 in the past 5 years.

Your Top 5 machines operated by hours, ever.

GPS coordinates and map of all the locations you have operated cranes and equipment.

Photos and details of your work activities like lifts, assembly/disassembly, inspections, and capacity percentage of the crane used.
3. It CAN get lost, leaving you with no "backup" of your data...
4. It CANNOT allow you to connect with coworkers and friends, to share details of your recent work accomplishments, and post to social media.
5. It CAN double as a coffee coaster leaving a charming, weathered, coffee-stain look.
6. It CANNOT allow you to conduct OSHA-required Crane Operator Evaluations per any crane make and model, and save them for all time, on your smartphone.
7. It CAN run out of space, requiring you to get another logbook (where should you store the old one?).

8. It CANNOT allow you to select from a list of over 3,000 makes and models of cranes and heavy equipment to operate.
9. It CAN be hijacked by your toddler, and used as a coloring book without you noticing, until you arrive on page 67 later in the year.
10. It CANNOT provide you with additional features like load charts, rigging
reference cards, a Certification Card Wallet, and anything else you can dream
up if you were a part of the OperatorPro community.
Needless to say, a crane operator logbook can do a lot of things, and it lacks in other areas. We'd encourage you to check out OperatorPro if you operate cranes or equipment of any kind.
Learn more at www.operatorpro.com.