The America Society of Mechanical Engineers (asme.org) has provided continuation education units (CEUs) to students who have completed course work in ITI's Fundamentals of Rigging Engineering Program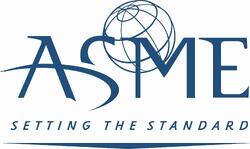 (www.riggingengineering.com) since 2015. ASME had audited and approved all courses in compliance with the IACET (International Association for Continuing Education and Training) Standard. This Program from ITI is the first crane and rigging-related curriculum to be approved by ASME Training & Development and will add to its offerings which cover a wide range of topics including pressure vessels, nuclear, petroleum, and gas turbines to name a few.
Students who complete courses in the Rigging Engineering Program will receive several additional benefits from ASME and ITI due to this partnership:
Individual Course Certificates with CEUs - Students will receive ASME CEUs for completing individual course requirements, as indicated on course certificates.
Program Certificate with CEU Summary - Students who complete the entire Program requirements will receive a Program Certificate summarizing ASME CEUs earned.
Free One-Year Membership to ASME - Students, upon beginning a course, will have the ability to apply for a free membership to ASME for one year.
Students receiving a one-year ASME Membership will benefit with access to: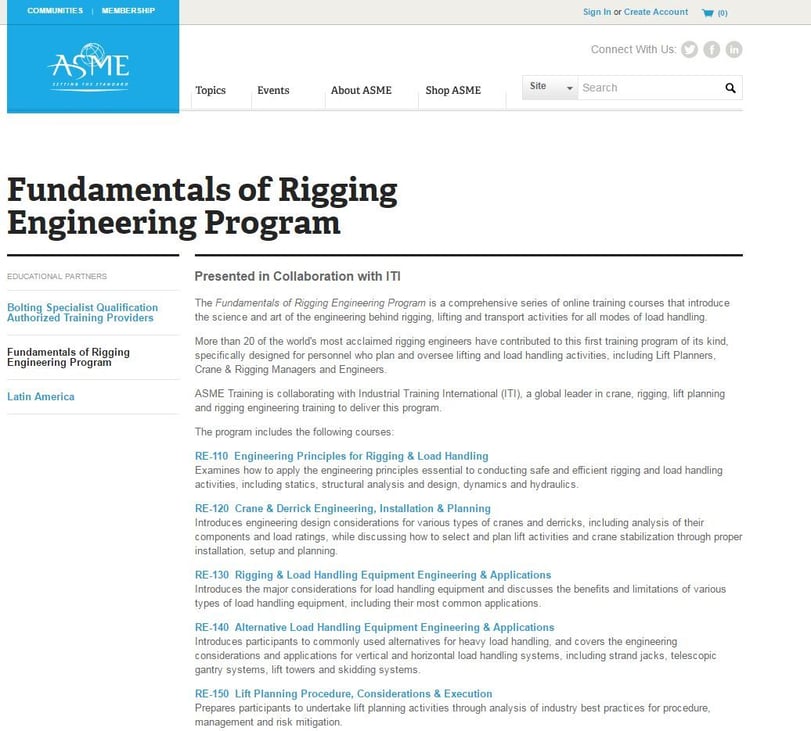 SmartBrief daily summaries of engineering news
AccessEngineering with over 600 volumes, tools and graphs
Mechanical Engineer magazine subscription
Access to 8 interest groups to connect with other members
Job board with exclusive opportunities
e-Mentoring to find or be a mentor
Access to affinity groups
Email alias "_____@asme.org"
Online member directory of mechanical engineers
Fundamentals of Rigging Engineering is the world's only public program of its kind aimed at training lift planners and rigging engineers. It is now available through the ASME.org website.
A Program demonstration and test drive is available at www.riggingengineering.com which offers prospective students a chance to experience the unique learning environment and course contents. Included in the demo are outlines of each course lesson and lecture samples.
The Fundamentals of Rigging Engineering Program has five required courses, which are available online through ITI's Learning Management System. To complete the Program, students must select two of the seven available elective courses. Three of these electives are available online and the remaining four offer hands-on, instructor led training opportunities.
ASME helps the global engineering community develop solutions to real world challenges. Founded in 1880 as the American Society of Mechanical Engineers, ASME is a not-for-profit professional organization that enables collaboration, knowledge sharing and skill development across all engineering disciplines, while promoting the vital role of the engineer in society. ASME codes and standards, publications, conferences, continuing education and professional development programs provide a foundation for advancing technical knowledge and a safer world. For more information visit www.asme.org.
For more information visit riggingengineering.com or call 800.727.6355.