An ASME Membership Available with any ITI Rigging Engineering Course
Unlimited access to valuable information and resources, connections to the best and brightest engineers, and plenty of opportunities to get involved and make a real difference in the mechanical engineering field. Sounds pretty useful doesn't it, but how much is it going to cost?" Well, FREE is a good price right?
Upon completion of any Fundamentals of Rigging Engineering Course, students are eligible for a full year's membership to the American Society of Mechanical Engineers (ASME). One more time in simpler terms - Complete Fundamentals of Rigging Engineering Course, join ASME on the house.
ASME Member Benefits
ASME SmartBrief daily summaries of essential engineering news

AccessEngineering with over 600 volumes, many with calculator tools, interactive graphs and downloadable tables

Mechanical Engineering

subscription (The official magazine of ASME)

Connect with engineering professionals and participate in as many as 8 interest groups

Job board with exclusive opportunities

e-Mentoring (find a mentor or be a mentor)

Access to affinity groups

Invitations to local meetings, events and activities

Email alias i.e. jdoe@asme.org

Networking, in-person and online

Online member directory of mechanical engineers

Group insurance at great rates

Bank of America Credit Card
Click here to learn about all the benefits in greater depth.
Fundamentals of Rigging Engineering
Fundamentals of Rigging Engineering is a program created for personnel who plan and oversee lifting and load handling activities including Lift Planners, Crane & Rigging Managers, and Engineers. The Program is approved by ASME for continuing education units (CEUs) in compliance with the IACET (International Association for Continuing Education and Training) standard.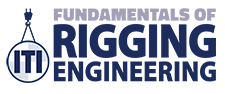 The unique program delivery method is powered by an online learning management system which showcases instructor lectures, quizzes, workshops, and exams with live instructor-led learning options available. Instruction is delivered through the aforementioned vehicles by over 20 of the world's finest rigging engineers with experience from influential industry leading organizations.
A live, interactive demo of the Program is available at http://www.iti.com/fore-demo, or by clicking on the button below.
Please call 800.727.6355 with questions or email elearning@iti.com.