New ITI Training Center in Cleveland - Mazzella Companies to Partner
First courses scheduled for April 2016
Cleveland, Ohio – January 19, 2016 – Industrial Training International and the Mazzella Companies have agreed to partner on a permanent training center location at Mazzella's Cleveland, Ohio Headquarters at 21000 Aerospace Parkway. The Cleveland Training Center will be the fifth North American training center for ITI, along with locations in Woodland, Washington, Memphis, Tennessee, Anchorage, Alaska and Edmonton, Alberta, Canada. The newest facility is strategically located adjacent to Cleveland Hopkins International Airport and will no doubt be a benefit to the heavy industries in the north eastern part of the United States.
The Mazzella Companies are well known in the crane, rigging, and load-handling industries for providing ideal lifting solutions, both products and services, including all styles of slings, overhead cranes, hoists, and engineered lifting devices. "We are very excited to work with Mazzella," said Zack Parnell, President, ITI. "Our family-operated companies have worked together for over 20 years, and we are proud to place our brand next to theirs as we grow in the region."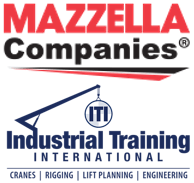 As is the case with existing ITI Training Centers, the Cleveland facility will include:
Indoor, practical training space and equipment
Outdoor, practical training space and equipment
ITI Rigging Conex
Interactive classroom
"ITI is a great partner and this agreement reflects our desire to collaborate with companies that believe in, and practice The Mazzella Way: To Instill Confidence & Comfort in Every Interaction," said Bill Franz, VP of Marketing, Mazzella Companies. "We feel ITI's presence with this new training center will allow us to be identified as a company of experts in our field. This offering will solidify our training with existing as well as new clients that they cannot get anywhere else."
Initially, ITI will host select courses at the Cleveland Training Center starting in April of 2016. Courses scheduled include:
For a full listing of course dates at all ITI Training Center locations, visit www.iti.com/calendar.
About ITI
Founded in 1986, ITI strives to be the world's foremost provider of educational and technical services for those who use cranes, rigging, and load-handling equipment. ITI currently serves thousands of customers across the globe. For more information about ITI, visit www.iti.com or call 800.727.6355.
About Mazzella
Mazzella Companies provide ideal lifting solutions, offering all styles of slings, overhead cranes, hoists and engineered lifting devices. Additional services include, training, in-field inspection and repair services that support Mazzella products. Some of the major market segments served are Steel, Construction, Energy, Vehicle and Durable Goods, Ship Building / Repair and Mining. Sheffield Metals International, a Mazzella Company, is a manufacturer and distributor of coated and bare metal products specializing in Galvalume® and aluminum for the architecturally designed metal panel industry. New Tech Machinery, a Mazzella Company, is one of the leading manufacturers of portable roll forming roof panel and gutter machines.
Founded in 1954, the Mazzella brand has been uncompromising, with a purpose to instill confidence and comfort in every interaction. What does that mean? It means that Mazzella provides reliable products and services, a highly responsive, knowledgeable team to support all offerings and the training to help ensure compliance of OSHA and ASME standards.
Learn more about Mazzella at www.mazzellacompanies.com.