Crane Model Spotlight - Tadano GR-1000XL
The Tadano GR-1000XL is one of two initial crane models that will be available in the new ITI Virtual Reality (VR) Mobile Crane Simulator. The most successful model from Tadano's GR-XL Rough Terrain Series and standard in many North American crane rental fleets, the GR-1000XL, embodies the manufacturer's goal, "to provide the safest, most innovative and reliable cranes in the industry that are able to handle all aspects of your job." Informally referred to as the "new generation of cranes," Tadano's GR-XL series rough terrain cranes offer 15, 35, 55, 75, 100, and 160 ton options.
GR-1000XL Specs
Max Lifting Capacity - 100 Tons
Max Lift Height - 212'
Boom Length - 39.4' to 154.2'
Number of Axles - 2
Jib Length - 33.2' to 58.1'
Gross Vehicle Weight - 115,610 lbs.
Length - 565.9"
Width - 130.5"
Height - 149.4"
Max Traveling Speed - 22 MPH
GR-1000XL Features
HELLO-NET
Under the HELLO-NET System, Tadano supports crane management via the Internet, providing information about operational status, position and maintenance. HELLO-NET Owner Sites enable sharing of machine data between Tadano and the machine owners, for advanced customer support. Information available includes; work history, machine position data, and maintenance information.
Asymmetrical Outrigger Set-up
When operating a crane with the asymmetrical outriggers extended, the AML-C detects the extension width of all the crane's outriggers (front, rear, left, and right) to measure maximum work capacity in each area.
Reducing Fuel Consumption
Tadano aims to reduce fuel consumption with two newly developed technologies; the Eco Mode system and the Positive Control system. The Eco Mode system reduces fuel consumption by 40% when the crane is being operated, and the Positive Control system reduces fuel consumption by 60% when the crane is in standby.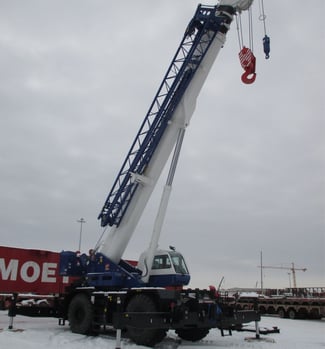 Self-Removable Counterweight

When using the auxiliary winch, dismounted counterweights can be lifted and moved for transport, and then remounted for operation at a work site without a helper. Weight of removable counterweight is 22,000 lbs.
The Tadano GR-1000XL is one of two initial crane models that will be available in the new ITI Virtual Reality (VR) Mobile Crane Simulator along with the Link-Belt 218 HSL Lattice Boom Crawler. ITI VR Simulations focuses on three key areas to ensure the best simulator training experience available.
1. User Experience
Virtual reality is an incredible technological leap and improvement over legacy (screen-centric) simulator systems.
2. Subscription Model
Hardware is sold at the costs of goods and you pay for unlimited access to the growing library of content including an expanding library of crane models and scenarios. Additionally, all technical support and service is included in the subscription.
3. Free Updates
ITI will continuously work with partners in the industry to add new content to the mobile crane simulator library including; new crane models, rigging challenges, and equipment types at no additional cost.
To learn more about ITI VR and the VR Mobile Crane Simulator visit www.iti.com/vr and click here to request a free demo.