The ITI
Fundamentals of Rigging Engineering Program
serves as a comprehensive introduction to the engineering behind complex rigging, lifting and transport activities. The program has been expertly designed with the help of 20+ of the world's finest rigging engineers and is
ASME
approved and
LEEA
accredited.
Craig Scharmann of
OEM Remanufacturing
is a recent graduate of ITI's Fundamentals of Rigging Engineering program. He attributes much of his progression into the position of Overhead Crane & Powered Mobile Equipment Specialist to the training that he received from ITI.
Craig was kind enough to provide us with the following insight on his experience in completing the program. Thank you Craig, and congratulations on your program completion! We are incredibly fortunate to get to work with skilled professionals like you.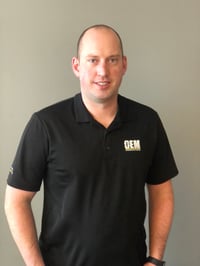 As the safety trainer at OEM, I started the process of developing and implementing an internal overhead crane training program for our nearly 500 overhead crane operators. It was early on in this journey that I had learned about the Master Rigger course, and with the support of our leadership team I attended my first course with ITI's Edmonton training center in December of 2015.
Like most of the other attendees, it was clear that we were all a little nervous about the training ahead. For me, these nerves were quickly put to rest by then trainer Richard Marcotte. It was quickly clear to me that he was not only highly skilled and experienced in lifting activities, but a natural instructor. The knowledge and skills I obtained from that one course were far superior to any other rigging course I had attended and greatly benefitted me in my position with OEM. At that point, it was safe to say that I was hooked on the training potential offered by ITI, and immediately suggested the Master Rigger course be attended by our Health, Safety and Environment team. Shortly after my return from this course OEM enrolled two of our safety shift supervisors and one millwright into the Master Rigger program to better position them to assist our production employees in their daily lifting activities. In 2020, I enrolled into the Master Rigger course for a second time to refresh my skills with instructor Mike Goett. Again, ITI delivered exceptional content from an incredibly knowledgeable, professional, and personable instructor.
The professionalism and knowledge of the ITI team were enough to convince me to register for the Fundamentals of Rigging Engineering Program as well as the Rigging Gear Inspector Levels I & II. As my crane and rigging experience was limited to our facility and overhead crane use, my goal for this program was to expand my knowledge of other lifting practices, tools, techniques and planning considerations; and that is exactly what this program provided. ITI has collected a variety of industry experts with decades of knowledge and experience that made this training so valuable. As the course was delivered online, I was able to work through the various courses at my pace and on my schedule. When I had questions about the program, material, or other lifting concerns, ITI was there for me when I needed them.
As a result of the training and skills I received from ITI, I have now moved into the position of "Overhead Crane & Powered Mobile Equipment Specialist" with the OEM Health, Safety & Environment team. In this position, I conduct overhead crane training for approximately 200 employees per year, develop documented lift plans, assist in procuring lifting devices, work with our team of engineers to design and implement custom lifting devices, develop lifting and hoisting policies and procedures, manage our rigging inspection program and provide crane & rigging support to our parent company, Finning.
Overall, I am very thankful to the OEM Remanufacturing leadership team that has allowed me to participate in some of the best crane and rigging training on the market. This training has allowed OEM and Finning Canada to continuously improve our practices and procedures to help ensure all of our employees go home safely.
The FoRE Program is intended for personnel who plan and oversee lifting and load handling activities including Lift Planners, Crane & Rigging Managers and Rigging Engineers. You can
download an FoRE Program preview here
.
See how ITI can help your team advance their rigging and engineering practices through online and in-person courses. Visit the ITI Learning Hub today!
About OEM Remanufacturing
OEM Remanufacturing is one of North America's most advanced engine and powertrain component remanufacturing companies, serving the railway, natural gas and diesel sectors. From a 310,000 square foot facility in Edmonton, Alberta, OEM offers clients timely delivery, quality craftsmanship and superior service. OEM is also proud to be the premier remanufacturing partner for Caterpillar Equipment and Finning in Western Canada. For more information about OEM Remanufacturing, visit www.oemreman.com
About ITI
Founded in 1986, ITI is a privately held company headquartered in Woodland, WA. The company specializes in crane, rigging, lift planning, rigging engineering training and technical services via the following delivery methods:
Instructor Led Training (at Client Locations and ITI Training Centers)

Online, On-Demand Learning

& Learning Management

(ITI

Learning Hub

)

Virtual Reality Crane & Equipment Training (ITI VR)

Field Reference Resource Center (ITI Bookstore)

Professional Consulting Services (ITI Field Services)
ITI currently serves thousands of customers across the globe. For more information about ITI, visit www.iti.com.