Two local Pacific Northwest VR education partners have teamed up to expand the offerings available to their customers. ITI debuted its VR Crane Simulator at the 2017 ConExpo show in Las Vegas with great success. The VR Crane Simulation Library has expanded to include 8 crane types and more than 1,000 scenarios. In subsequent years following its launch, ITI VR Crane Simulations has proven to be a valuable training solution to dozens of subscribers across the globe.
"It is important that we partner with organizations who have the same goal in mind - to educate and develop skills with dedication and integrity to those we serve." Kim McPhee, ITI's Director of VR & Online Learning stated about the partnership. She added, "Leveraging these highly effective training solutions with traditional programs offers unprecedented retention and value."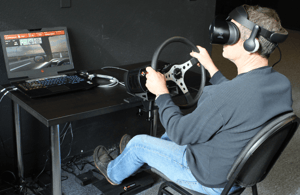 VR Motion, out of Hillsboro, Oregon, offers VR training solutions for novice drivers, commercial transport, and small-medium fleets. "We are excited to be working with a world-class training organization like ITI," said VR Motion CEO, Keith Maher. "ITI brings years of commercial and industrial training experience to the exciting new world of Virtual Reality training. This relationship will enable our commercial customers to increase safety and reduce costs by using VR training products for both vehicles and heavy-duty equipment."
The organizations strive to improve safety and efficiency and will leverage each others areas of expertise to expand solutions for their customers. Each offer fully immersive, ultra realistic VR experiences in both Motion Base and portable Desktop Simulator platforms for solutions that meet budget, space, and portability requirements.