In September 2017, the International Union of Operating Engineers (IUOE) implemented two Desktop and two Motion-Base ITI VR Mobile Crane Simulators at their training facility in Sacramento, CA (IUOE Local 3). The partnership between IUOE 3 and ITI started at ConExpo 2017 in Las Vegas, NV.
ConExpo 2017 featured 2,800+ exhibitors from across the world, taking up over 2,500,000 square feet of event space. ITI's event space included Motion Base, Desktop, and Aerial Work Platform Simulators to allow attendees the chance to experience ITI VR training programs.
In summer 2017, ITI traveled to IUOE 3's training facility in Sacramento, CA to give demonstrations to seven crane operator apprenticeship classes. The demonstrations resulted in the Journeyman Apprentice Committee (JATC) realizing the value in the immersive training tool and looking to implement ITI VR Simulators permanently at the facility. Four ITI VR Simulator live at the 11.5 acre campus that also devotes 1,500 acres to crane, heavy equipment, and maintenance training where hands-on, practical sessions are conducted. The JATC quickly realized the opportunity the simulators will allow their apprentices and members to get additional seat time, comparable to the experience of operating a real crane.
IUOE 3 however, is not the first IUOE Local to obtain an ITI VR Simulator. The Operating Engineers Training Institute of Manitoba, Canada (OETIM) implemented a VR desktop simulator in October 2016. With multiple Locals interested in immersive VR training technology, the IUOE and ITI finalized a purchase agreement program at the national level in October 2017. ITI is thrilled to be working with IUOE Locals to help prepare the next generation of crane and heavy equipment operators.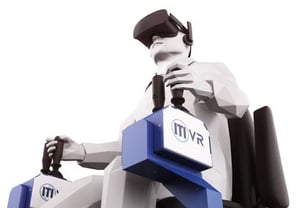 To learn more about ITI VR, CLICK HERE
About IUOE3
International Union of Operating Engineers Local 3 represents the interests of people who build, serve and protect. Most of Local 3's 35,000 members work as heavy-equipment operators, but the union also represents public employees, such as maintenance workers and police officers. The training program for construction professionals gives employers access to the highest quality of workers, providing their business with a competitive edge while raising the quality of life for Local 3 members. Local 3's jurisdiction covers Northern California, Northern Nevada, Hawaii and Utah, and its membership makes up the largest construction trades local in the United States.