ITI to Host NCCCO Commissioners for Fall Meeting 2016
Over 60 NCCCO Commissioners, committee members, and guest are expected to attend the 41st Biannual NCCCO Commissioner Meeting hosted at Industrial Training International's Woodland, Washington Headquarters and Training Center, Oct. 18-21.
The week-long event will include the full Commissioner's meeting, which will be highlighted by updates to the rule making process for several pending OSHA regulations (including crane operator qualification and technical amendments), reports on recent action items from various NCCCO Committees, and an update from the NCCCO Board of Directors.
The National Commission for the Certification of Crane Operators (NCCCO) was formed in January 1995, as a non-profit organization with it mission to develop effective performance standards for safe crane operation to assist all segments of general industry and construction. By providing thorough, independent assessments of knowledge and skills, NCCCO aims to enhance lifting equipment safety, reduce workplace risk, improve performance records, stimulate training, and give due recognition to the professionals who work in, with, and around cranes.
ITI participates formally on the Lift Director Committee with Joseph Kuzar, Assistant Technical Director and the company has sponsored NCCCO events in the past including a Commissioner's Meeting in 2014 in Dallas (pictured right). ITI has invited local companies to participate in this Meeting through sponsorships including Kiewit (www.kiewit.com), West Coast Training (www.heavyequipmenttraining.com), West Coast Wire Rope (www.wcwr.com), and Samson Rope Technologies (www.samsonrope.com).

A special addition to the Fall Meeting is the ITI Virtual Reality (VR) Mobile Crane Simulator, which will be open for attendee demonstrations and feedback throughout the meeting. The VR Crane Simulator is scheduled for a March 2017 release, and will include a simulation course that serves as a preparation tool for national certification crane operator practical exams.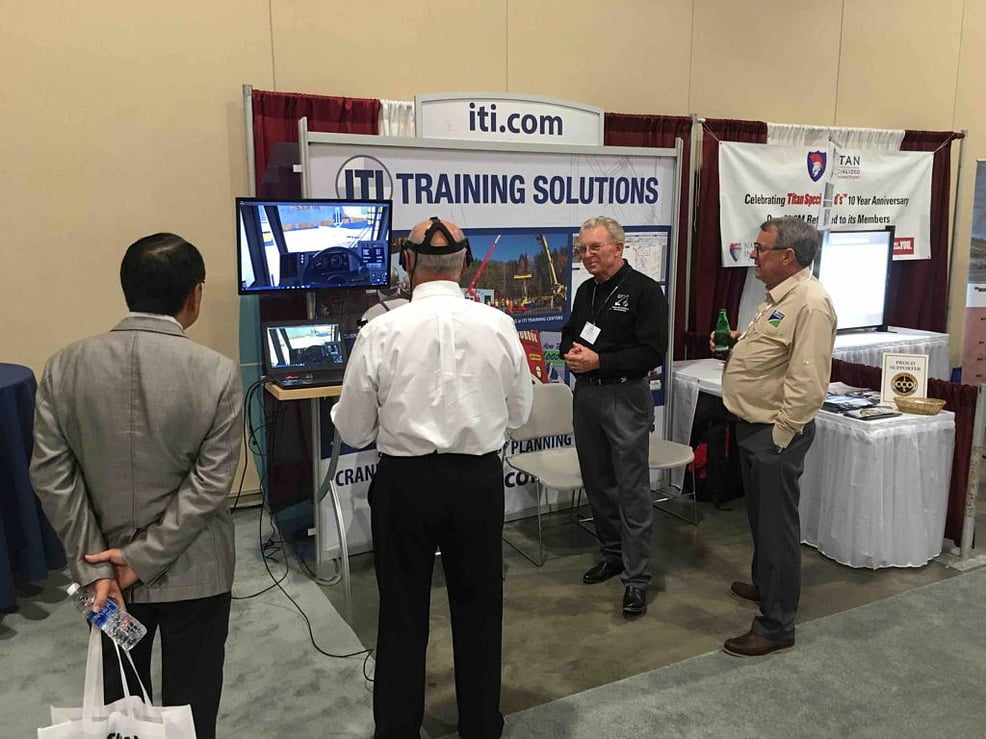 If you are interested in attending the Oct. 18-21 meeting, email info@iti.com or call 800.727.6355.