ITI VR Accepting Beta Program Applications for Mobile Crane Simulator

Woodland, Washington – October 4, 2016 – Industrial Training International (iti.com), is now accepting applications for its Virtual Reality (VR) Mobile Crane Simulator Beta Program. The simulator is on target for a March 2017 release date, with the official unveiling at CONEXPO (http://conexpoconagg.com/), in Las Vegas. Beta Program applicants have the opportunity to gain immediate access to the Simulator through the development process with a hardware deposit and will be in the reservation queue when the final version is ready in early 2017.

Beta Program applicants will receive the hardware and software needed to run all available course simulations including:
A high-powered laptop
An Oculus Rift Headset
Xbox Controller
Simulation Library Package
"We've tried to answer customer requests with this initiative. This Beta Program will allow interested customers to access our simulator throughout the development process prior to receiving their final crane controls and the full library of courses," commented E-Learning Specialist and ITI VR Project Manager, Caleb Steinborn.
Although standard reservations can be placed for both the Desktop and Motion-Base Mobile Crane Simulators with a $1,000 deposit, these reservations will not be fulfilled until early 2017. Beta Program applicants essentially purchase the available hardware and course library at-cost ($3,500) and are able to gain a 20% discount on the Desktop version and/or a 10% discount on the Motion-Base version when the final joysticks and hardware becomes available.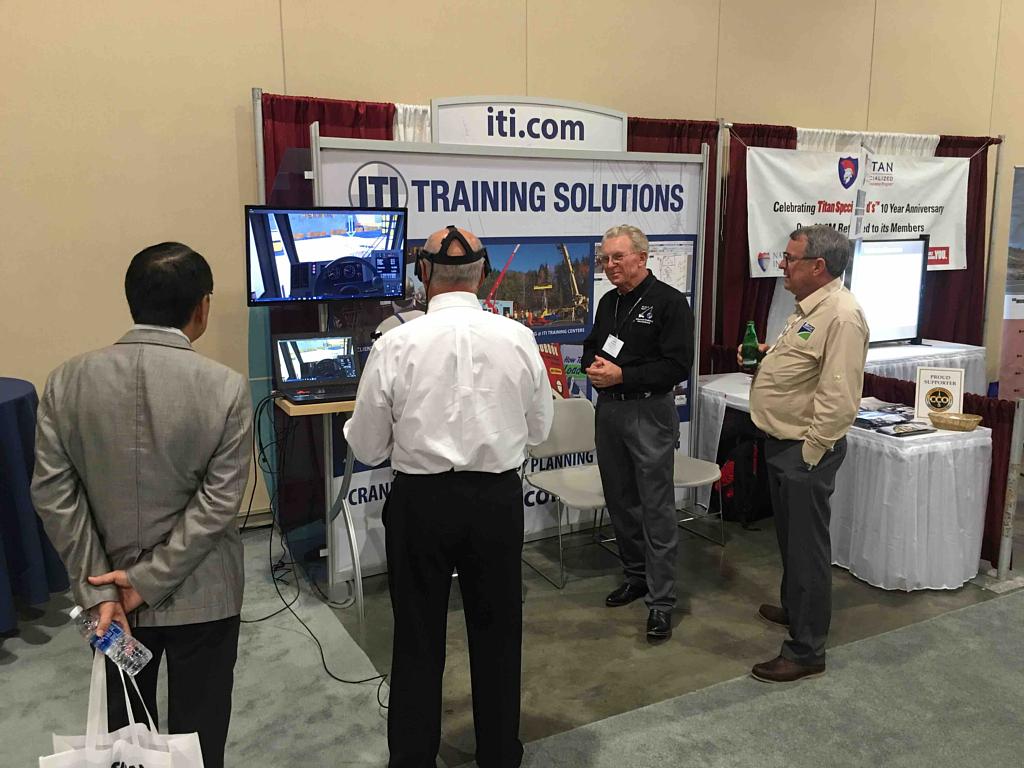 Beta Program applicants may return their hardware purchase for a 75% refund after the equipment is returned to ITI, and ITI validates that it can successfully refurbish the hardware for future use.
To learn about all terms and conditions regarding the Beta Program and ITI VR Reservations, visit www.iti.com/vr#beta or click the button below to apply.
In addition to early access through the ITI VR Beta Program, ITI representatives will be hosting VR demonstrations at the following industry events, visit www.iti.com/vr#tourdates for full details.
Oct. 6, 2016 | Houston Area Safety Council Open House | HASC, 5213 Center Street, Pasadena, TX

Oct. 11, 2016 | Houston Business Roundtable (HBR) Showcase| HASC, 5213 Center Street, Pasadena, TX

Oct. 18-21, 2016 | NCCCO Commissioner's Meeting | ITI, 9428 Old Pacific Highway, Woodland, WA

Nov. 2, 2016 | Lift & Move USA | Bragg Companies, 6251 N. Paramount Blvd., Long Beach, CA

Nov. 6-9, 2016 | SABIC Exhibition of STC-12 | King Abdullah Bin Abdulaziz Cultural Centre, End of Road 3, Jubail Industrial City, Kingdom of Saudi Arabia

Feb. 14, 2017 | Lift & Move USA | All Erection & Crane Rental, 6429 Harney Road, Tampa, FL

March 6-9, 2017 | Oregon Governor's Occupational Safety & Health Conference | Oregon Convention Center, 777 NE Martin Luther King Jr. Blvd, Portland, OR

March 7-11, 2017 | Con Expo | Las Vegas Convention Center, 3150 Paradise Road, Las Vegas, NV

May 1, 2017 | Lift & Move USA | Lifting Gear Hire, 9925 Industrial Drive, Chicago, IL
To learn more about ITI VR visit www.iti.com/vr today, or call 800.727.6355.