FOR IMMEDIATE RELEASE
Contact: Jonah Hobson, Marketing Manager
Telephone: 1-800-727-6355
Email: jonah@iti.com
Rigging Engineering Program Scholarships Awarded to 3 ACRP Meeting Attendees
Industrial Training International (iti.com), a world leader in crane, rigging, and lifting educational services, donated three $6,000 Scholarships to the Association of Crane & Rigging Professionals (acrp.net) Crane & Rigging Jeopardy prize pool. The Scholarships grant 50% off of course registration fees for ITI's Fundamentals of Rigging Engineering Program, which entails a total of 10 Courses.
The Scholarship winners include Jeff Roach (American Electric Power), Amanda Jordan (American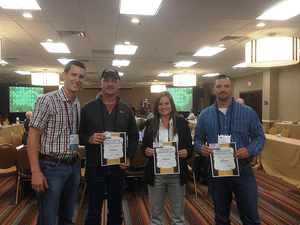 International Crane Bureau), and James "JP" Biondo (Oak Ridge National Laboratory), all three are pictured to the right with ITI President, Zack Parnell on the left.
Roach, Jordan, and Biondo's Jeopardy Teams were among the top finishers in the entire meeting, allowing them to draw from the prize pool first. Crane & Rigging Jeopardy is an annual staple of the ACRP General Assembly meeting; the game is sponsored by The Crosby Group and involves remote handheld devices that allow teams to input their answers to each multiple-choice question posed on the screen.
The ACRP is an association dedicated to improving lifting activities across all industries by educating professional, corporate, and associate crane and rigging instructors. The Annual Assembly was held May 14-16, 2014 in Nashville, Tennessee. The 2015 Assembly is set for Kansas City, Missouri, May 12-15, 2015 and will involve a tour of WireCo World Group's Sedalia Wire Rope Manufacturing Plant.
For more information about the Fundamentals of Rigging Engineering, please visit www.riggingengineering.com or contact Christina Lanham, Manager of E-Learning, at 800-727-6355. For more information about ACRP, please visit http://www.acrp.net.