Imagine you were helping to hire a new tech support employee for your company. Your hiring team has things narrowed down to two people with very similar resumes. Both have relevant degrees, 4-5 years of experience, good references, and both interviewed well. There is an interesting difference though: Candidate A's resume came with a second page. It was covered with 10-15 brightly colored competency badges from Microsoft, Google, and various state universities. They aren't additional degrees, or some kind of NASCAR-esque advertising campaign, but rather micro-credentials with titles like "Microsoft Excel Specialist" and "Google Cloud Certified".
Which candidate might you be inclined to hire?
This story illustrates the recent growth of micro-credentials, initially in tech fields but quickly expanding to other specialties. The rise of micro-credentials can be attributed to bringing value to both sides of the employment spectrum. Employers love that they can see what a potential employee can actually do, not just where they went to school and where they worked, and prospective employees love the ease in which micro-credentials allow them to showcase skills and specialties.
So, what can crane and equipment operators take from the micro-credential trend?
Micro-credentials help workers in competitive fields stand out.
Equipment operator jobs are highly competitive. It can be tough to edge out your competition and show that you are the best person for the job. While it's a safe bet that Google won't be offering a "Certified for Personnel Hoisting" badge anytime soon, there is a way crane and heavy equipment operators can keep track of all their specialized skills and experiences (think access to special sites, experience on different pieces of equipment, etc.)...
ITI has developed a way for you to document your skills and experiences and easily access your "experiential resume" with just a swipe and a couple finger taps. With OperatorPro you can log the hours you spend on various equipment types. Rather than saying "experience with Rough Terrain Cranes" on your resume you could document exactly how many hours you spent on each of the RT crane types. You can also document that you have performed specialized tasks like blind picks, pick and carries, or operating near energized power lines.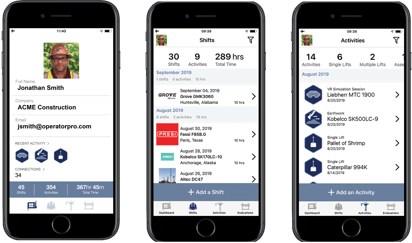 OperatorPro users are always just a tap away from the information they need with one-touch selections for:
Dashboard
Shifts
Activities
Evaluations
OperatorPro comes pre-loaded with more than 3,000 equipment makes and models (plus the ability to add models not currently in the library), so operators are always covered, whether you are moving dirt, setting trusses or anything in-between.
Imagine blowing away the competition with OperatorPro the next time you apply for a promotion, a new job, or to be an equipment operator on a project that would provide steady work. OperatorPro is available for download on iOS and Android devices.
Kyle Mumford
Kyle is a part of ITI's design and development team. He holds a bachelors degree in education and has multiple years of experience as a public school teacher. In his free time he enjoys reading and spending time outdoors.