The team at Norfolk Naval Shipyard has become the fourth US Naval Shipyard to implement ITI VR Crane Simulators into its crane operator training and assessment programs. Norfolk has implemented two VR Motion Base and two VR Desktop stations along with the ITI VR Unlimited subscription plan enabling the shipyard to benefit from all crane models in the library, as well as all future updates and new crane models released.
The US Navy has been a partner with ITI and its training solutions since the late 1980s. ITI has provided naval personnel from around the world with training in a variety of load handling subjects including Rigging Applications, Mobile, Pedestal and Bridge Crane Operations, Rigging Gear Inspection, and Accident Investigation. The long-standing training relationship prompted the US Navy to add the most cutting-edge technology available in crane operator training and assessment from ITI.
ITI VR Crane Simulations encompasses the most widely-used VR crane operator training and assessment platform in the world. ITI VR harnesses the technology of virtual reality, powered by development partner Serious Labs, and is infused with the technical industry knowledge and instructional design of Industrial Training International subject-matter experts to provide fully immersive, hands-on, practical operator training.
At ITI VR Crane Simulations, we believe in:
1-to-1 Authenticity - In partnership with leading crane manufacturers like Broderson, Liebherr, Link-Belt, Tadano, and Terex, we strive to create a virtual experience indistinguishable from the real world.
Robust, Unmatched & Growing Offering - With 9 crane models, 500+ scenarios (and more on the way), our community of subscribers benefit from a growing and unmatched breadth and depth of simulation content, without having to pay more for new features.
Continuous Improvement with our Customers - We never settle and don't expect our customers to either. That is why so many of the world's best-run organizations are a part of the ITI VR community including Bechtel, ExxonMobil, Nucor Steel, General Electric, United Rentals and the US Navy utilize ITI VR Crane Simulations. The pioneering subscription model allows our community members unlimited content updates including, new crane types, training scenarios, and environments as they become available.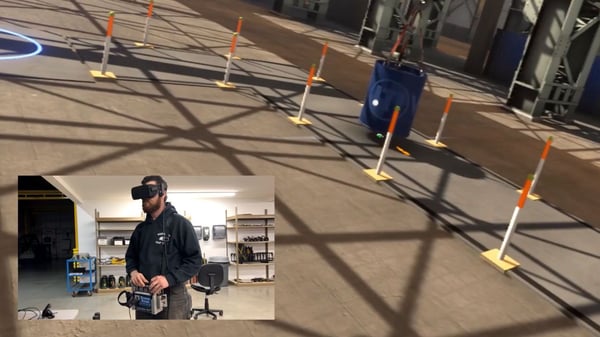 To learn more about ITI VR Crane Simulations, visit www.iti.com/vr.
ITI is a global leader in training and technical services for users of load handling equipment and has been a pioneering force in the load handling industry since 1986.
To learn more about ITI, visit www.iti.com.