ITI is the world's leading crane, rigging, and load handling training provider in large part because of the unique backgrounds and experience of its team members. Don't believe me? Well, I had the opportunity to sit down with Joe Kuzar, Assistant Technical Director of ITI, to talk about his experience in the industry and travels for training.
Amanda Henry: What is your educational background?
Joe Kuzar: I went to Penn State for an unrelated field of study. I did an internship in that field and returned to school, worked in the industry for a number of years and just didn't like it. Years after that, I got into Construction Management and Safety and went to Columbia Southern University for Occupational Safety and Health, which I am still in the process of pursuing that degree. I'm still working on that because with each advancement, there's always more learning to do so that you can do the job.
Pursuing that degree falls to the wayside because when I came on board, I had to focus on learning the ITI programs. When I moved up into the role of Assistant Technical Director, I had to learn other things just in the curriculum development. It takes time, but it is still a dream of mine to finish the degree in Occupational Safety and Health and actually go on to get my CSP. That's my dream, we'll see if it happens.
AH: So, why did you decide to go into heavy industry?
JK: Well, I didn't like what I went to school for, so I decided to move back to Western Pennsylvania. My grandmother had recently passed away and at that point in time and just living away from home, not being around family, I wanted to be back in Western Pennsylvania in the town that I grew up in, on a farm.
I was always around machinery and heavy equipment on the farm. Friends of mine were working for Halliburton Energy Services and they needed operators, laborers, and truck drivers. At that point, I would have considered myself between careers and I said to myself, "Let's try this. Let's see if I like this or not." My friends were making a decent wage and it seemed like they enjoyed what they did. So, I went and got my CDL and drove trucks for Halliburton Energy Services and hung out with my buddies that I've known since Elementary school.
AH: Can you tell me about your work experience before joining ITI?
JK: When I was at Halliburton, I started out as a laborer and truck driver. At one point in my time there, they asked me if I would be interested in being a crane operator and I said, "Sure. Let's try this. It's something different, but I'll try it." It was a little more cerebral, a thinking man's game, and I found out that I had a knack for it.
After Halliburton, I went on to work for a non-union local crane outfit. I wanted to be home more, so I went from a non-union crane outfit to a union crane outfit – the Operating Engineers in western Pennsylvania. I went through the apprenticeship program and after that, I followed work down into Virginal where I worked for a while, but I operated cranes for over a decade. While I was in Virginia, one employer has asked me if I wanted to try Safety Management. At that point in time, I wasn't really interested, and I declined because I wanted to stay a crane operator. I enjoyed it. There are days I wish I could go back there, life was simpler, but onward and upward.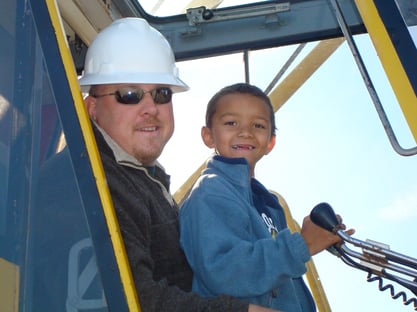 AH: What made you want to transition into training?
JK: The company I was with thought that I would make a good safety professional. They actually sent me to an aerial work platform Train-the-Trainer program. I've always looked at things like this: even if it is outside of my lane of responsibilities, if they are willing to invest in me, I'll take that investment and run with it. I ended up enjoying it. I enjoyed doing the training part. I didn't do much with the aerial work platform, but it kind of opened my eyes to another part of the industry that I had never even considered.
At that point in time, my wife and I had adopted our son, Dante, and I wanted something a little more stable. As I was getting older, my body was starting to break down a little bit from all of the sports I played and climbing and jumping on and off of equipment. I decided to give safety a try, and I loved it. All of the questions that I had regarding safety such as: Why do we do this? Why do we have to do that? Their questions were answered when I got into safety because just with everything else, I dove headfirst and studied, learned, read, and prepared myself to teach. I enjoyed the safety aspect of it and it was almost like being an attorney of sorts. You have to read through all these regulations and standards.
While I was in safety, it gave me the opportunity to do some training, which I really enjoyed. I like seeing the light bulb come on for other people. It was kind of close to coaching sports. You're changing behaviors and you're changing cultures of safety and ideas, but when I train, I just really like seeing that light bulb come on. Knowing that I was helping people not just be safer, but also helping them improve themselves to some point.
I had my own training company when I was in Virginia. It started in 2008, and it did very well. I didn't advertise, it was word of mouth and I stayed busy with it. What I found through that process was that I enjoyed the training portion of the business, but not the marketing, sales, or administrative part of it, but you have to do that when you own a small company. I got to see that end of the business and develop my own materials.
AH: Why did you decide to join ITI?
JK: I had known Mike Parnell and ITI, which at the time was WRRC, for basically my entire time in the industry. I had the opportunity to be a member of one of the new AMSE committees – 30.1 – which at that time was unnamed, but it turned into 30.1 for load handling activities. I got to meet Mike for the first time at one of those meetings and just through that conversation, I got to know him, and I realized that we had a like-mindedness about our industry and how we pursued things. Throughout that process, I learned about ITI and I went home and watched ITI's very first webinar.
I was sitting at my desk at the office and I watched the very first webinar that ITI had done. Zack Parnell was hosting, and he mentioned the website and the Lift Count Calculator. I went on the website and ventured to the 'Careers' tab just to see what was available and saw a posting for a full-time instructor and I thought that was interesting. The funny part was that later that day, I got a call from Zack and he said that they saw that I had clicked on the 'Careers' tab and he wanted to know if I was seriously interested. I was pretty shocked to hear from him because I clicked on that tab out of curiosity. When I was posed with the question and knowing the reputation of ITI, I thought, "Wow. This is kind of an honor just to be nominated," so to speak.
I remember I was standing in my driveway and I had just gotten home from work when that conversation happened. I got off the phone with Zack and talked to my wife and told her, "Listen, this just happened. I got this phone call…. What do you think?" I remember we were up at my mom and dad's house in western Pennsylvania and Mike called the house, since there was no cell phone reception up there. He wanted to talk more with me and my wife, Christina. We spoke for probably 3 hours and he emailed me a schedule which was in an Excel format and we talked about it. The interesting part was that he made a point that it wasn't just my decision, it was my wife's decision too because it would definitely impact our relationship and our family. The fact that Mike had that kind of integrity, that kind of concern, not just that they needed an instructor, but they were concerned about the family, that was huge. I remember what sealed the deal was when my wife said, "I know what I'm about to say means that I'm going to see you less, but I think you have to take advantage of this opportunity. I don't think it will come back around anytime soon." Her exact words were, "You've been building up to this your entire life, you just didn't know it. Your career, your time at Penn State, all your time as an operator building to your time in safety and training. Everything is pointing to this decision." That's when I decided to accept the offer as a full-time traveling instructor and honestly, it's the best job I've ever had.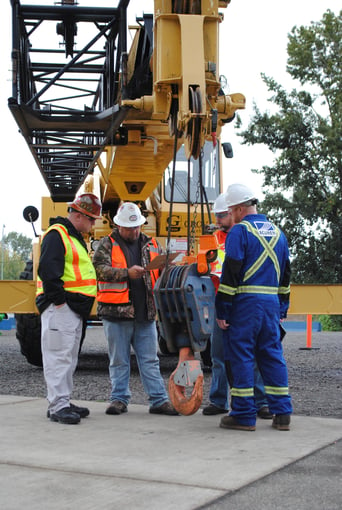 AH: Where have you traveled during your time as an instructor for ITI?
JK: I have traveled to every state except for Alaska and Wisconsin. I have had opportunities for both of those, but they never came to be. I have been to Canada a couple times, but unfortunately, I have not left North America. There have been opportunities, but they have never come to fruition. It will happen soon enough.
AH: Where has been your favorite place to travel for training?
JK: Specifically, one of the most enjoyable places I've gone just based on geographical location was Charleston, South Carolina. It was right when Superstorm Sandy was hitting the east coast and I was down there for 2 weeks back-to-back. That area wasn't affected by the storm, it had gone much further north. Just the charm of Charleston really took me back so much that my wife and I actually celebrated one of our anniversaries there.
In general, I like coastal regions. Aside from my personal preferences, I've gone to some really neat places that look like hole-in-the-wall places that you'd never think would you would ever want to go back to. Anytime you have an opportunity to go someplace new, you're going to meet new people and have new experiences. I always try to focus on the positives in everything. I have been to a lot of really cool places. When you couple that with the profession, our clients are just fantastic. You can go someplace new and you think, "Wow. I did not expect to go here." You travel to somewhere that is in the middle of nowhere and then you get to your destination and meet some fantastic people that work for a fantastic company and it really makes the trip. At this point in my career, I haven't gone anywhere I haven't liked and it's either been because of the location or it's been because of the client themselves and they're just wonderful and they overcome any possible or perceived negativity.
AH: Is there anywhere that you hope to travel to in the future with ITI?
JK: I would like to check Alaska and Wisconsin off my list for visiting every state in the United States. Then I would like to leave North America eventually. Hopefully Europe! I would love to go to England or Germany. Also, everybody wants to go to Australia, but I think it would be really cool. Even though there are so many things that can kill you in Australia, I would still love the opportunity to go there.
AH: Last but not least, is there anything that you hope to accomplish during your career in the industry?
JK: I want to leave the campsite better than I found it. By that, I mean that I want to leave the industry hopefully better than when I found it. I have made some contributions that have made it safer for people so that they can go home every night. If I have done that, I have done my job. I have the opportunity to work with some of the best people in the industry with some of the best clients in the industry. All of them have given me so much trust in what we develop and what we present, and I just hope I can give some of that back in some form or fashion. I think that if I keep it simple and leave the campsite better than I found it, I will accomplish what I want to in this industry.
On a personal note, I want to finish my degree in Occupational Safety and Health. I would like to get my CSP, but that's all secondary to just being part of a great organization and leaving the industry better that I found it.